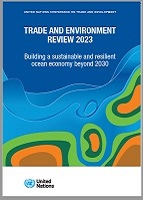 Building a sustainable and resilient ocean economy beyond 2030
Fifty to 80 per cent of life on Earth is found in the ocean. For centuries the ocean, which is the planet's life support system, was considered too vast to fail and its resources so infinite that they could be exploited imprudently.
As these assumptions fade and global awareness of the ocean's tipping point, its finite resources and worsening vulnerability to climate change, pollution and biodiversity loss emerge, the need to address the ocean crisis in the broader context of achieving the Sustainable Development Goals (SDGs) now requires urgent integrated approaches and solutions.
Trade and Environment Review 2023: Building a sustainable and resilient ocean economy beyond 2030 addresses the current and emerging crosscutting role of the ocean in advancing economic growth, social inclusion and environmental sustainability.
The Review builds on the discussions and outcomes of the 4th United Nations Oceans Forum on trade-related aspects of SDG 14, life below water, which took place in Geneva from 6 to 8 April 2022.
The Forum proved to be a unique global platform from which to take stock, exchange experiences and explore options to implement trade-related targets for SDG 14. The focus of the 4th Forum, "A shift to a sustainable ocean economy: Facilitating post-COVID-19 recovery and resilience," allowed participants to identify opportunities and challenges for the ocean economy and trade to contribute to post-COVID-19 recovery and resilience within the mandates of the outcome document of UNCTAD's 15th quadrennial conference (UNCTAD15) – the Bridgetown Covenant.
The recommendations agreed during the Forum were shared with all Member States by Mauritius, as the chair of the Forum, as part of UNCTAD's preparations and the holding of the Second United Nations Ocean Conference (UNOC 2022) in Lisbon, Portugal in 2022.
The Trade and Environment Review 2023 examines several key and emerging topics for the ocean economy, including the seaweed sector as a lever for a sustainable economic recovery; fisheries subsidies and non-tariff measures (NTMs); the decarbonization of shipping and maritime supply chains; and plastic litter and other ocean waste challenges.
It explores these issues, identifies the main opportunities and challenges and concludes by offering a bottom-up menu of action-oriented policy recommendations for Small Island Developing States (SIDS) and coastal developing countries.
It calls for a "Blue Deal" on trade and finance to accelerate the implementation of SDG 14 and identify practical yet farreaching development paths towards a sustainable, resilient and inclusive ocean economy by 2030 and beyond.