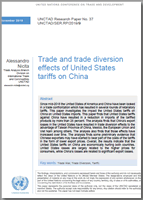 UNCTAD Research Paper No. 37
US tariffs on China are economically hurting both countries. The tariffs have resulted in a strong decline in US imports from China. US losses are largely related to higher prices for consumers.
While this paper does not examine the impact of the most recent phase of the trade war, the recent escalation is likely to have added to the existing losses.
History of the trade war
Since mid-2018, the US and China have been locked in a trade confrontation that has resulted in several rounds of retaliatory tariffs.
Over the course of 2018, the US administration started implementing a series of trade measures to curtail imports, first targeting specific products (steel, aluminum, solar panels and washing machines) and then specifically targeting imports from China.
In the early summer 2018, US and China raised tariffs on about US$50 billion worth of each other's goods. This escalated further in September 2018 when the US introduced an additional 10% to cover $200 billion worth of Chinese imports, to which China retaliated by imposing tariffs on imports from the US worth an additional $60 billion.
In June 2019, the US increased the tariffs further, to 25%. China responded by raising the tariffs on a subset of products that were already subject to tariffs. In September 2019, the US imposed 15% tariffs on a large subset of the remaining $300 billion worth of imports from China not yet subject to tariffs.
Evolution of the US-China Trade War

Source: UNCTAD
How it affects China
US tariffs on China have resulted in a decline in imports of tariffed products by about 25% in the first half of 2019. While substantial, this figure also shows the competitiveness of Chinese firms, which despite the substantial tariffs, were still able to maintain 75% of their exports to the US.
Trade diversion effects
The paper puts the trade diversion effects – increased imports from countries not directly involved in the trade war – for the first half of 2019 at about $21 billion, implying that the amount of net trade losses corresponds to about $14 billion.
Trade diversion effects have brought substantial benefits for Taiwan (province of China), Mexico, and the European Union.
Trade Diversion Effects in the US Market by Economy and Sector, First Semester 2019
(Millions US dollars)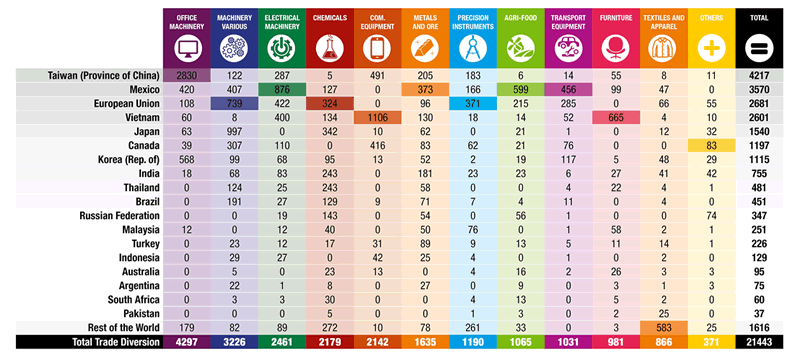 Source: UNCTAD
The paper also provides insights into effects at the sectoral level. The office machinery and communication equipment sectors were hit the hardest, with a total reduction of US imports from China in the order of about $15 billion for the first half of 2019.
Effect on US consumers
The analysis finds implicit evidence that the cost of the tariffs has been generally passed down to US consumers.