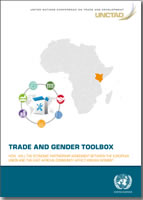 The trade and gender toolbox is the first attempt to provide a systematic framework to evaluate the impact of trade reforms on women and gender inequalities prior to their implementation.
The methodology has been applied to date to a specific trade agreement, namely the Economic Partnership Agreement between the European Union and the East African Community, and is used to assess the likely impact of the Economic Partnership Agreement, mainly through employment, on gender equality and the well-being of women in Kenya, a partner country in the East African Community.
The same methodology can be used to assess the gender-related impacts of any other trade agreement or trade reform in other countries.
The toolbox has four main components:
Descriptive analysis of gender inequalities and the economic context of the country at stake.

Quantitative analysis of the expected consequences of the trade reform on the economy (e.g., exports, GDP, sectoral labor demand) and on women's participation in the economy in particular.

A checklist for gender-sensitive accompanying measures and monitoring indicators.

A Trade and Gender Index.
This form of ex ante gender analysis aims to answer the question: what may happen to women if a given trade policy is implemented?