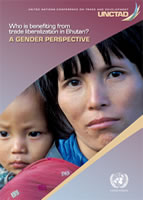 Moving from a quantitative approach, this study seeks to assess who would benefit from trade liberalization/facilitation in Bhutan and, in particular, analyze whether there is a gender bias in the gains from trade.
By analyzing the main sectors and trade patterns of the Bhutanese economy, the study explores how trade expansion would affect men and women.
Special attention is devoted to the farming
sector since agriculture is the main source of employment in Bhutan, accounting for more than 65 percent of the total work force and over 72 percent of female work force.
The study recommends that, by capitalizing on its image and its unique developed strategy based on the concept of Gross National Happiness, Bhutan could gain brand identification and strategically position itself in high-value markets.
Sectors such as handicrafts manufacturing and textile, organic farming as well as tourism, show growth potential and their export-led expansion might especially benefit women.
The study also highlights the importance of clustering and linkages between sectors within the Bhutanese economy, for example linking agro-processing industries with tourism outlets.
A workshop was organized by UNCTAD on 18 May in Thimphu, Bhutan's capital, on the occasion of the launching of the study.