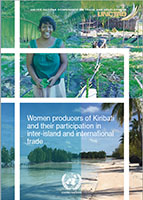 As it is the case for most small island developing states, Kiribati suffers from "smallness" with respect to population and economy. Smallness is a key driver of economic vulnerability because it implies a narrow resource base, lack of economies of scale, and high dependence on imports which result in limited production, export, and employment opportunities.
Women face specific constraints that limit their capacity to participate in inter-island and international trade, including time poverty; social norms and lack of self-esteem; limited access to finance, raw materials, infrastructure and technology; and little opportunities for training and skill development. As it has happened in most countries, the COVID-19 pandemic has proved to negatively affect women more than men.
Against this backdrop, this new study presents a series of policy recommendations that revolve around three objectives that aim to:
Help address the main constraints faced by women producers and traders in Kiribati
Promote women's participation in both inter-island and international trade
Contribute to women's economic empowerment in the country
The study is one of the outputs of the project Transparency in Trade Regulation and Facilitation in the Pacific Agreement on Closer Economic Relations (Pacer) Plus. The project's overall objective is to equip the nine Pacific Island Countries signatories of the Agreement to fulfil their commitments under it and benefit from it.