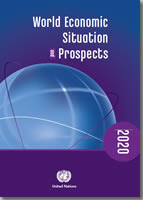 At the September SDG Summit in New York, world leaders called for accelerated implementation of the 2030 Agenda for Sustainable Development. In response, I launched the Decade of Action to deliver the Sustainable Development Goals by 2030. As we enter the new decade, we face a complex set of development challenges. The global economy is suffering a significant and widespread slowdown amid prolonged trade disputes and wide-ranging policy uncertainties; poverty rates are increasing in numerous countries; climate risks are more pressing than ever; and inequalities remain broad within and among countries. This is the backdrop as policymakers strive to advance on the SDGs.
The World Economic Situation and Prospects 2020 warns that economic risks remain strong, aggravated by deepening political polarization and increasing scepticism about the benefits of multilateralism. These risks could inflict severe and long-lasting damage on development prospects. They also threaten to encourage a further rise in inward-looking policies, at a point when global cooperation is paramount.
Climate disruption also poses a serious and growing threat to short- and long-term economic prospects. That is why I will continue to push to keep the climate crisis at the top of the international agenda. The report stresses that investors underestimate the risks of climate change and are still making short-sighted decisions to expand investment into carbon-intensive assets. One of the primary ways to break the link between greenhouse gas emissions and economic activity is to change the energy supply mix, transitioning from fossil fuels to renewable sources of energy. This transition will require policies that steer nations towards carbon neutrality by 2050, including setting a meaningful price on carbon pollution, abandoning perverse fossil fuel subsidies and ending investment in and construction of coal-fired power plants by 2020. Well-balanced policy strategies should maintain economic stability while broadening access to clean, affordable and reliable energy.
The rise of living standards over the past century has also relied heavily on depleting the world's natural resources, such as forests and water—an economic model that is simply not sustainable. To live in shared prosperity within the capacity of our planet to support us, we must move away from carbon and resource-intensive industries, materials and value chains. We must instead prioritize sustainable consumption and production—a way of life that enables economic growth, while ensuring planetary protection.
I commend the United Nations Department of Economic and Social Affairs, the United Nations Conference on Trade and Development, the five United Nations Regional Commissions and other contributors for this joint report. The United Nations System will continue to work closely with Member States during the Decade of Action as we cooperate to implement the 2030 Agenda and deliver a sustainable, peaceful and prosperous future.

António Guterres
Secretary-General of the United Nations