Asia-Pacific Trade and Investment Report 2021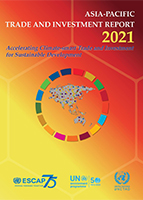 Accelerating Climate-smart Trade and Investment for Sustainable Development
The Asia-Pacific Trade and Investment Report (APTIR) is a biennial publication prepared by the Trade, Investment and Innovation Division of the United Nations Economic and Social Commission for Asia and the Pacific to provide insights into the impact of recent and emerging developments in trade and foreign direct investment on countries'abilities to meet the challenges of achieving sustainable development.
The theme of APTIR 2021 is "Accelerating climate-smart trade and investment for sustainable development". The report, prepared in cooperation with the United Nations Conference on Trade and Development and the United Nations Environment Programme, highlights the linkages between trade, investment and climate change and discusses the degrees to which regional trade and investment policies address climate change using a newly constructed index.
The report also covers the role of the private sector, regional trade agreements and trade and transport facilitation measures in reducing greenhouse gas emissions. For this report, alternative policy scenarios of carbon pricing, carbon-border adjustment taxes and fossil fuel subsidy elimination are modelled and their impacts are examined. The report closes by offering policy recommendations for ensuring that trade and investment policies are climate smart.
---