Financial inclusion for development: Better access to financial services for women, the poor, and migrant workers
Financial inclusion for development: Better access to financial services for women, the poor, and migrant workers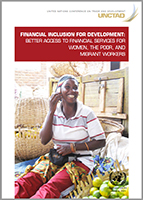 Access to financial services is critical to the achievement of the 2030 Agenda for Sustainable Development. Despite progress in recent years, significant gap remains between developed and developing economies. In 2017, 94 per cent adults in developed economies had an account1 compared to 63 per cent in developing economies. The poor, less educated, youth and women tend to be more excluded.
Financial inclusion thus remains a key development concern, which has become more acute with the coronavirus disease (COVID-19) pandemic. The restrictive measures adopted by many governments to curb the spread of COVID-19 have led to income losses, with the most serious impact felt by lowincome households.
This study examines the importance of improving access to financial services as a policy objective to achieve sustainable development that "leaves no one behind". The study is structured as follows.
Chapter I examines the trends and key issues regarding financial inclusion, in particular physical, economic, regulatory, and cultural factors that hamper people's access to financial services.

Chapter II discusses the linkages between remittances, financial inclusion, and trade and investment policy. The chapter focuses on the special needs of migrant workers for effective and less-costly financial services in support of more efficient remittance flows, which is of special importance in face of the COVID-19 challenges.

Chapter III is devoted to digital financial inclusion, a trend which has assumed growing importance in recent years, and also explores other business models and services to extend financial inclusion.

Chapter IV identifies policies, initiatives and measures that are required to improve financial inclusion, targeting in particular the vulnerable and underserved groups, as well as micro, small and medium sized enterprises (MSMEs).

Chapter V concludes with policy implications and recommendations at the national and international level.
---