Non-Tariff Measures: Evidence from Selected Developing Countries and Future Research Agenda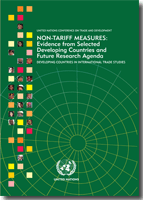 This publication is one of the first attempts by the United Nations to address in a comprehensive manner the issues relating to NTMs in this age of current global economic turmoil.
One of the principal objectives of this report is to stimulate the discussion on NTMs and subsequent impact assessment of the trade strategies on the developing countries market access opportunities, and to contribute to UNCTAD´s overarching mission of upholding an open, equitable, rule-based, predictable and non-discriminatory multilateral trading system, as enshrined in the UN Millennium Declaration, as well as to assuring development gains from international trade and trade negotiations.
Part I contains the five country reports (Brazil, Chile, India, Thailand and the Philippines). Each of the country reports follows a similar structure:General overview (growth, trade, tariff and non-tariff measures); business survey (methodology, data collection and description); official NTMs data (national datasources, application of NTMs); challenges (sample selection, NTMs concept, web-portal) and conclusions (resources required, awareness of NTMs and impact assessment and sustainability).
These papers provide clear data on some of the current issues that the exporters and importers in these countries are facing
Part II contains a research paper on the methodological approaches to the NTMs quantification by one of the leading experts in the field, Michael J. Ferrantino of USITC.
The paper provides a valuable survey of available methodologies on the quantification of the effects of NTMs and provides evidence of empirical linkages between trade andnon-tariff measures. It then examines the data obtained through the pilot project, both through survey and official sources and proposes a set of alternative options for analysis and quantification using the data from the pilot project.
Part III contains the report by the Group of Eminent Persons on Non-Tariff Barriers (GNTB) to the Secretary-General of UNCTAD which was made available at themeeting held on 5 November 2009 in Geneva.
The report highlighted the key issues of the UNCTAD initiative in collaboration with international partners in United Nations organizations and agencies, regional organizations and national governments and other partners, and provided policy and technical guidance and recommendations on the implementation of a possible multi-year programme to raise the profile of NTMs activities.
---