Training manual on developing joint BioTrade and REDD+ projects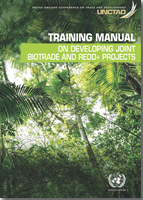 Biodiversity is the source of many products and services utilized by society and its sustainable use is thus fundamental for long·term sustainable development. Natural resources are located mainly in rural areas, where over 70 per cent of the world's poor live and directly depend on these resources to cover 90 per cent of their needs in terms of food, fuel, medicine, shelter and transportation.1
The BioTrade Initiative of the United Nations Conference on Trade and Development (UNCTAD) seeks to generate additional economic opportunities and income through the sustainable commercialization of biodiversity-based products and services. BioTrade encompasses activities ranging from the production to the sale of products and services derived from native biodiversity. Its implementation is based on compliance with a set of environmental, economic and social sustainability criteria aimed at generating economic growth and sustainable livelihoods for rural populations while conserving biodiversity.2
Introduced by the United Nations Framework Convention on Climate Change (UNFCCC), REDD+ offers financial incentives to developing countries for reducing emissions from deforestation and forest degradation through the conservation of forest carbon stocks and sustainable management of forests. It therefore represents an opportunity for integrating BioTrade activities into climate·friendly policies, thereby strengthening local economic activities in forest buffer zones.
The present training manual is intended to support the development and implementation of joint BioTrade and REDD+ projects in order to maximize benefits and synergies. It includes a step-by-step project methodology that has been specifically designed for project proponents and developers. The manual also provides policy advisers and other interested stakeholders with key concepts and practical considerations on BioTrade and REDD+, the synergies between the two approaches and the potential for combining them.
The content of the manual draws on the experience of the UNCTAD BioTrade Initiative in promoting trade and investment in biological resources to further sustainable development. It also integrates Forests Alive's experience in developing REDD+ projects. Finally, the manual builds on the findings of the project "Strengthening the capacity of policymakers and business leaders in three BioTrade beneficiary countries [Brazil, Colombia and Ecuador] in integrating REDD+ projects into BioTrade strategies" which was formulated and implemented by UNCTAD between 2010 and 2012 under the United Nations Development Account programme.
---
1 CBD (2009).
2 UNCTAD (2012b).
---