UNCTAD-OECD Report on G20 Investment Measures (25th Report)
UNCTAD-OECD Report on G20 Investment Measures (25th Report)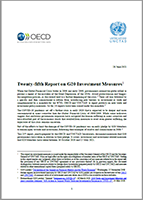 When the Global Financial Crisis broke in 2008 and early 2009, governments around the globe rallied to prevent a repeat of the mistakes of the Great Depression of the 1930s: Avoid protectionism and beggar-thy-neighbour policies, as this would lead to a further deepening of the crisis.
Their call was followed by a specific and firm commitment to refrain from introducing new barriers to investment or trade and complemented by a mandate for the WTO, OECD and UNCTAD to report publicly on new trade and investment policy measures. So far, 24 reports have been issued under this mandate.
The COVID-19 pandemic set off a further crisis in early 2020 that is expected to be deeper and more consequential in many countries than the Global Financial Crisis of 2008/2009.
While some indicators suggest that ambitious government responses have mitigated the human suffering in many countries and have absorbed part of the economic shock that resulted from measures to avert even greater suffering, the trajectoire of this crisis remains uncertain.
Part of the efforts to limit the damage of the COVID-19 pandemic was an early pledge by G20 Members to remain open to trade and investment, following their example of resolve and commitment in 2008.
This 25th report, jointly prepared by the OECD and UNCTAD Secretariats, documents measures that G20 governments have taken in relation to their pledge. It covers investment and investment-related measures that G20 Members have taken between 16 October 2020 and 15 May 2021.
---