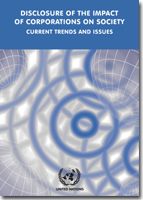 Current trends and issues
This publication provides an overview of the current trends and issues in corporate social responsibility reporting.
The secretariat´s report on the disclosure of the impact of corporations on society, contained in Part I, was presented and its findings were discussed at the twentieth session of ISAR in September 2003.
Part II of the publication contains the proceedings of a one-day workshop organized immediately after the twentieth session for the members of ISAR interested in this issue.
High-level representatives addressed a number of issues in the area of corporate social responsibility, such as the drivers of the phenomenon of corporate social responsibility, major reporting initiatives, and the benefits of CSR for corporations as well as for the sustainable development of countries. They also discussed how the accounting profession and standard-setters can respond to the current situation in order to develop a harmonized social reporting model that takes into account stakeholders´ needs and corporations´ constraints.