14 December 2017
10:00 - 07:00 hrs. Crowne Plaza Hotel
Vientiane
, Lao People's Democratic Republic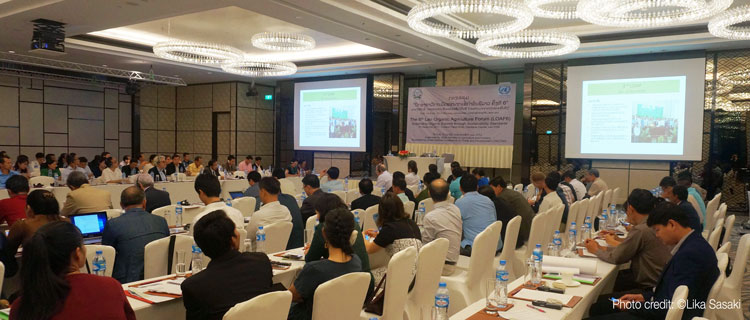 Over 100 stakeholders joined in on the 6th Lao Organic Agriculture Forum (LOAF 6) meeting "Expanding Organic Exports through Sustainability Standards" at the Crown Plaza Vientiane on 14 December 2017. The minutes of LOAF 6 are available here.
The meeting was jointly organized by the Lao Ministry of Agriculture and Forestry and UNCTAD and brought together producers, manufacturers, traders, exporters, government agencies, development partners to share their views and experiences on organic agriculture. Organic agriculture has shown potential in Lao PDR for development, but have been facing many challenges to keep up with the momentum of the global growth demand for organic products.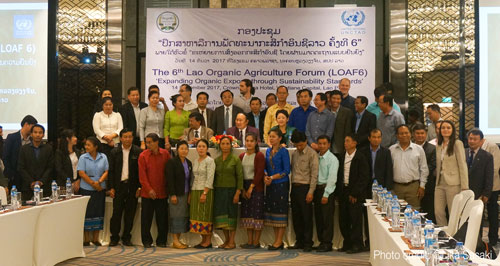 The workshop introduced VSS as a potential tool to expand market opportunities of Lao organic products as well as discussed 1) approaches cope with the high costs of organic production and certification and 2) the future role and direction of the LOAF meetings.
Some of the key highlights from the discussion are as follows:
There are missing linkages and coordination among between and among key stakeholders especially among producers, government, business, and financial institutions.

There is a strong need to move towards forming an action oriented association, tentatively named as the Lao Organic Movement Association (LOMA), which shall be built upon the outcome of extensive multi-stakeholder dialogue conducted within the LOAF framework.

Trust across the value chain and especially between value chain intermediaries is an important factor for organic agriculture to optimally function.

The quality and safety standards of Lao organic products must be raised for Lao organic products to be accepted in regional and international markets.

Government should support farmers in forms of subsidies or creating credit guarantee funds to support producers. Government should also work more with financial institutions to be able to offer reasonable financial instruments (such as loans with low interest rates) for stakeholders in organic agriculture sector.

Market information for organic agriculture products is needed, particularly on information on global market demand.

There must be an organic agriculture development strategy at the national level.
There is some issue in accessing document path, Please contact to Site Admin
---

Language(s)
English | Français |