14 May 2019
14:00 - 13:59 hrs. 18:15-19:15 hrs., Room XXVI, Palais des Nations
Geneva
, Switzerland
Public Lecture by Professor Richard Baldwin
Moderated by award-winning journalist, Andrew Revkin of the National Geographic Society
Richard Baldwin is Professor of International Economics at the Graduate Institute (Geneva), ex-President of the Centre for Economic Policy Research (London), and Founder of VoxEU.org.
He is the author of the recently published book The Globotics Upheaval: Globalization, Robotics, and the Future of Work.
In addition to his research and teaching, he advises governments and international organisations around the world on globalisation and trade policy issues.
In 1990-91 he served as a Senior Staff Economist for President George Bush's Council of Economic Advisors, having completed his PhD in economics at MIT with Paul Krugman (with whom he has published a half dozen articles).
His previous book, The Great Convergence: Information technology and the New Globalisation, was published in November 2016 and cited by Lawrence Summers (former Chief Economist at the World Bank) as one of the 5 most important books on globalisation ever.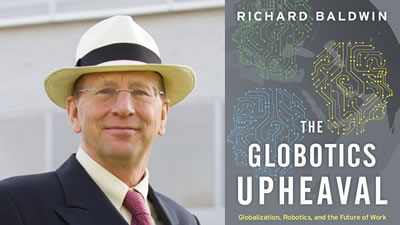 Downloads:
Meeting Registration Guidelines
Synopsis of the lecture: How Globotics is Transforming Development Journeys
Digital technology is transforming globalisation and robotics ('globotics') at a furious pace, and thus changing the opportunities and challenges facing developing and developed economies.
This talk argues that digitech will flattening comparative advantage chains by reducing labour cost shares and thus reduce trade in manufactured goods, so-called "localisation".
Digitech is also changing -driven globalisation by making services more tradable - a change that will allow developing nations to exploit their true comparative advantage, which is quality-adjust low-cost labour. Digitech is allowing the export of labour services directly via "telemigration" (people sitting in one nation but working in offices in another nation, i.e. international telecommuting).
These changes constitute new export opportunities for workers in emerging economies.
This suggests that the "Great Convergence" will continue, will spread geographically, and will involve development journeys that look more like India's than China's.
There is some issue in accessing document path, Please contact to Site Admin
There is some issue in accessing document path, Please contact to Site Admin
---

Related Site: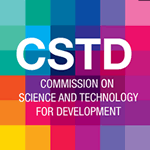 The CSTD Dialogue brings together leaders and experts to address what must be done to ensure that the potential offered by science, technology and innovation towards achieving the SDGs is ultimately realized.