13 - 14 April 2015
Palais des Nations
Geneva
, Switzerland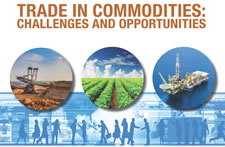 The Global Commodities Forum, organized by UNCTAD with the support of its partners, is a major multi-stakeholder meeting where participants can debate potential solutions to perennial problems in the commodity economy.
The theme of the 2015 Global Commodities Forum is "Trade in commodities: Challenges and opportunities".
The first sessions on the programme will reflect on the significant shifts seen in commodities markets over the past year — especially the fall in oil prices — and discuss their implications for resource-rich developing countries, as well as for other stakeholders in the commodities value chain.
This stock taking will include a session, organized in collaboration with the Organization for Economic Cooperation and Development, devoted to the policy space available to raw-material-exporting countries, including, for example, the increased use of export restrictions by these countries since 2008.
The latter sessions of the Forum will look forward, examining the development implications of the "new normal" in commodities markets and trade policy.
The programme will close with a session that re-examines the commodities supercycle in the current context of lower prices.
Representatives from exporting countries will discuss what lower commodities prices mean for their budgets, national development plans and more generally, for their interaction with the global trading system.
Participation
The Global Commodities Forum brings together stakeholders from throughout the commodities economy, including high-level representatives from national governments, businesses and international organizations, as well as experts from civil society, academia and the press.
Participants will attend this meeting in their personal capacities.
There is some issue in accessing document path, Please contact to Site Admin
---

Language(s)
English | Français | Español | 简体中文 | Русский | العربية |
Contact
Communications concerning representation at the meeting:
All other enquiries:
Mr. Samuel K. Gayi, Head of the Special Unit on Commodities
Tel: +41 (0) 22 917 2131
Fax: +41 (0) 22 917 0509
E-mail:
[email protected]