07 March 2019
16:00-18:00 hrs., Hall 14 of the Palais des Nations
Geneva
, Switzerland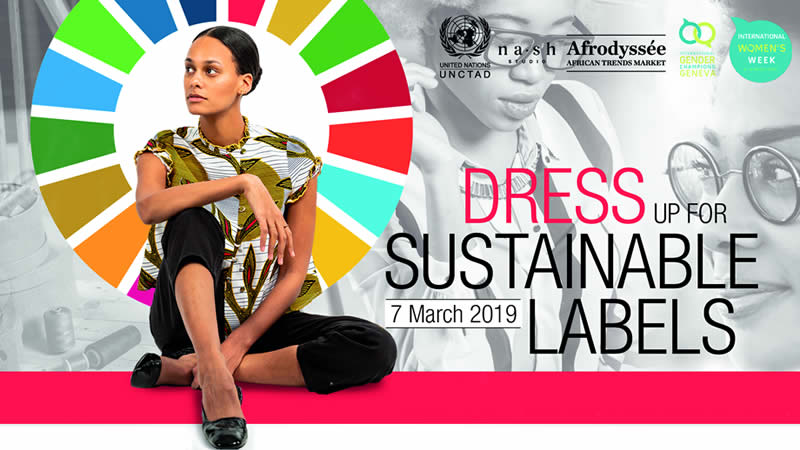 Join UNCTAD, Afrodyssée and designer Shade Affogbolo for a celebration of fashion, sustainability and #WomensDay.
The purpose of this year's celebration of International Women's Day at UNCTAD is to advance our understanding of the relationship between Voluntary Sustainability Standards, sustainable development, women's empowerment and trade.
It will provide the opportunity to listen to a number of testimonials, learn about the development of the sustainability label Afrodyssée and assist to a fashion show of clothing and accessories designed by Shade Affogbolo and produced according to sustainability practices. All participants will be invited to a reception to celebrate together International Women's Day.

Downloads:
There are at present over 200 Voluntary Sustainability Standards (VSS) worldwide. Their goal is to create win-win situations by reconciling environmental, social, and economic policy objectives. Many developing countries, however, remain uncertain about the real effectiveness of these instruments towards meeting the Sustainable Development Goals, including SDG 5 on gender equality and women's empowerment.
Panel Discussion on Sustainable Labels:
Welcome address, introduction and moderation by Ms. Isabelle Durant, Deputy Secretary-General of UNCTAD

Remarks by H.E Maria Teresa T. Almojuela, Ambassador and Deputy Permanent Representative, Permanent Mission of the Philippines to the United Nations

Testimonial by Ms. Shade Affogbolo, Fashion designer, Nash Prints It

Remarks by Mr. Vincent Jacquemet, Founder, Afrodyssée

Remarks by Mr. Sergi Corbalan, Director, Fair Trade Advocacy Office
Fashion show followed by a reception
There is some issue in accessing document path, Please contact to Site Admin
There is some issue in accessing document path, Please contact to Site Admin
---