29 July 2020
04:30 - 07:30 hrs.
Virtual Event (Webex)
, Angola
Results
Webinar participants segregated by gender / Participantes do seminário segregados por género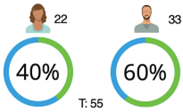 Webinar participants segregated by sector / Participantes do seminário segregados por sector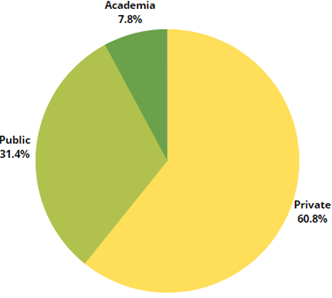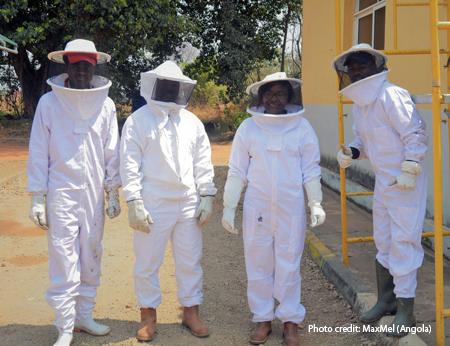 The training seminar "Cooperation for Apiculture Development in Angola" contributed to the discussion on improved production techniques, certification standards and access to export markets. It also sought to foster international cooperation and the exchange of experiences between beekeepers and specialists from developing countries.
UNCTAD implemented this activity under the National Green Export Review (NGER) of Angola, one of the seven components of the EU-UNCTAD Joint Programme for Angola: Train for Trade II, which is funded by the European Union. The NGER aims to build the capacity of Angolans in the public, private and academic sectors in the examination of issues relevant to the development of green value chains, with special emphasis on export opportunities in Southern Africa and the rest of the world.
The webinar deepened discussions initiated in the second NGER training workshop, focused on the honey and timber sectors, which took place in June 2019, in Luena, Moxico. The event included the participation of Brazilian guest speakers, from research institutions and the private sector, who shared their experiences in the development of apiculture and the strengthening of the honey value chain.
Results Achieved
Fifty representatives from Angola's private sector, Government and academia participated in the webinar, where national experts provided a diagnostic of the Angolan honey sector and four Brazilian experts shared their experiences in upgrading production for certification and exports. Despite the COVID-19 related challenges, the capacity-building seminar reached eight remote provinces. Producers, university professors and Government representatives from Bengo, Cabinda, Cuanza Sul, Huambo, Huíla, Luanda, Moxico and Uíge actively engaged in the training. Bridging of the digital gap will continue through delivery of the training to additional provinces and beneficiaries, as well as follow-up mentoring.
Descrição do evento em português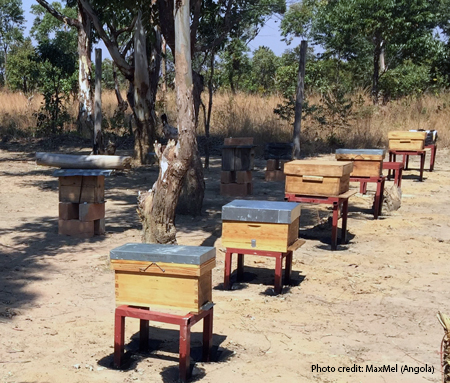 O seminário on-line de formação "Cooperação para o Desenvolvimento da Apicultura em Angola" contribuiu à discussão sobre técnicas de produção que garantam um mel de qualidade, o cumprimento de normas de certificação e o acesso a mercados externos. Buscou igualmente fomentar a cooperação internacional e a troca de experiências entre apicultores e especialistas de países em desenvolvimento.
A CNUCED organizou esta atividade no âmbito da Revisão Nacional das Exportações Verdes (RNEV) de Angola, um dos sete componentes do Programa Conjunto UE-CNUCED para Angola: Train for Trade II, financiado pela União Europeia. A RNEV visa capacitar representantes do governo, sector privado e academia no exame de questões relevantes ao desenvolvimento de sectores verdes e suas cadeias de valor, com atenção especial às oportunidades de exportação para parceiros comerciais na África Austral e no resto do mundo.
O seminário on-line aprofundarou discussões iniciadas no segundo workshop, de formação da RNEV de Angola, voltado aos sectores do mel e da madeira e ocorrido em junho de 2019, em Luena, no Moxico. O evento contou com a participação de oradores brasileiros, de instituições de pesquisa e do sector privado, que compartilharam suas experiências no desenvolvimento e fortalecimento da apicultura.
Resultados Alcançados
Cinquenta representantes do setor privado, governo e academia de Angola participaram no seminário on-line, onde especialistas nacionais forneceram um diagnóstico do setor de mel angolano e quatro especialistas brasileiros compartilharam suas experiências no melhoramento da produção com vista à certificação e à exportação. Apesar dos desafios relacionados à pandemia do COVID-19, o seminário de capacitação alcançou oito províncias remotas. Produtores, professores universitários e representantes do governo do Bengo, Cabinda, Cuanza Sul, Huambo, Huíla, Luanda, Moxico e Uíge participaram ativamente do treinamento. A colmatação da lacuna digital continuará com a extensão do treinamento a províncias adicionais, bem como com o acompanhamento de beneficiários.

Brazilian experts provided their experiences in upgrading the honey sector in Brazil.
Peritos brasileiros forneceram suas experiências na atualização do setor de mel no Brasil.
There is some issue in accessing document path, Please contact to Site Admin
Sponsor / funding:
European Union / União Europeia
---