20 March 2018
Mukhisa Kituyi was speaking at a business forum attended by Africa's leaders a day before they sign into life the historic African Continental Free Trade Area
Political declarations must be matched with concrete actions, UNCTAD Secretary-General Mukhisa Kituyi told leaders at a business forum on the eve of the signing of the African Continental Free Trade Area (AfCFTA) at a special summit of the African Union.
The forum, held the day before the landmark 21 March summit in Kigali, Rwanda, brought together African leaders, business interests and policymakers to map out a strategy for broad engagement in the AfCFTA and the vision of the African Union's Agenda 2063 for continental integration.
The AfCTA will create a trade bloc of 1.2 billion people with a combined gross domestic product (GDP) of more than $2 trillion. The agreement commits countries to removing tariffs on 90% of goods and to liberalize services.
"There are sometimes political statements of solidarity which are not matched by concrete action," Dr. Kituyi told a panel that included President Paul Kagame of Rwanda and President Mahamadou Issoufou of Niger, who is the African Union Champion for the AfCFTA.
Dr. Kituyi said that political transparency was needed to "shatter myths" about free trade in Africa, especially at a time of "rising protectionism" in the global trade environment and "major threats to rules-based multilateralism".
The benefits from increased intra-trade African under the AfCFTA would create prosperity for every African, Mr. Kagame, who is also the chairperson of the African Union, said earlier in a keynote speech.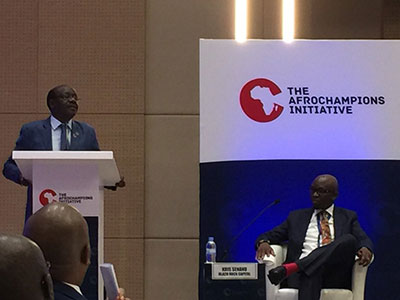 Related News
Related Publications:
New opportunities
With the signing of the "historic agreement", Mr. Kagame said, "a new chapter in the story of African unity is set to begin".
"The stakes are enormous for Africa, but also for the entire global economy, to which Africa will contribute an ever-greater share in the decades ahead," Mr. Kagame said.
"The creation of one African market necessarily entails a metamorphosis in how we think and act. The full involvement of the private sector is needed more than ever before. The purpose of today's forum is to discuss how to make the most of the new opportunities we are creating for ourselves."
Genuine African integration
Dr. Kituyi added that leaders had to "put their back into African integration".
"The people who were angry with globalization are not only in the industrialized North where they are losing jobs," Dr. Kituyi said referring to developed countries.
"There's a lot of people who are angry about trade in Africa, it's just that they don't have a voice," he said.
"As we create voices for them, we had better address their concerns before they become politically too angry. If you are committed to a genuine African integration, you must put your back into priority African initiatives."
The AfCTA aims to speed up cross-border trade and tackle "behind the border" regulations – also known as non-tariff measures – which put a brake on trade. The free movement of people is also envisioned.
"The collective commitment has to be: 'Let us give our priority to the African initiative'," Dr. Kituyi said.
Ignorance is not bliss
A former trade minister of Kenya, Dr. Kituyi brought his personal reflections to the debate.
"I had the privilege to be a trade minister negotiating free trade agreements before, and one of the main problems we found was government officers at borders pretending they don't know the rules," Dr. Kituyi said.
"They will just tell you 'We don't know if you are allowed to bring this in'. And they stop your truck at the border for three weeks, pretending they don't know! So, argumentum ad ignorantiam becomes just an excuse to slow down African integration."
Dr. Kituyi said three things were needed to make the AfCFTA work.
"No. 1 political will; No. 2 documenting and shaming the bad examples of not walking the talk; No. 3 we all have to ready to say one important thing – that we don't have all the solutions."
New mindset
The AfCTA Business Forum "Leveraging the Power of Business to Drive Africa's Integration" comprised four plenary sessions addressed by several African heads of state and numerous African business leaders.
"There has to be a new mindset in the relationship between governments and business that says that business is not a cash cow to get political money," Dr. Kituyi said.
"Business has to know that what you buy on the wholesale market collectively is cheaper in the long run. A challenge to African business is this: if African businesses create the conditions at home to invest the surpluses in Africa."
Dr. Kituyi also spoke at a business breakfast, a plenary on technology, innovation and intra-African trade, a cocktail reception for African entrepreneurs and other events at the summit.
On 21 March, more than 50 African heads of state and government are set to sign the AfCFTA – billed as the creation of the biggest free trade area since the foundation of the World Trade Organization.
AfCFTA sessions can be viewed on the YouTube channel of the Rwanda Broadcasting Agency?.