29 March 2016
 The city of Tema, just east of Accra, is home to the largest seaport of Ghana. It was there that at 16, Alphonse Wordi began to work as a casual dock labourer, not expecting the experience to last more than a few months. Forty-two years later, Alphonse is today a human resources manager for the Ghana Ports and Harbours Authority. He has seen first-hand the many sides of working at ports in his country.
Originally from Akatsi, a small town in the country's eastern Volta Region, Alphonse arrived in Tema at the age of 10 to attend middle school after an uncle offered to put him up and pay his school fees. Excited and determined to do well in that challenging environment, he finished among the top of his class. He passed the entrance exam for one of the top secondary schools in Ghana.
But when his uncle fell into financial hardship, Alphonse knew he could no longer continue his studies. "I had no choice but to find work," he says.
He gravitated naturally to the port. His first job as a "sew bag" was to repair damaged bags of general cargo. One year later, when a position as office messenger opened, he was hired.
Encouraged, Alphonse enrolled in evening classes and, six years later, finished his secondary education. At the same time, he continued to work and develop his career at the company. Over the years, he was promoted to different administrative positions, gaining more and more responsibilities. He eventually went on to complete a master's degree in human resources management.
That perseverance paid off. In 1994, Alphonse got a management position in the human resources department of Ghana Ports and Harbours Authority. And in 2008, when the Ghana Ports and Harbours Authority joined the English-speaking network of ports in developing countries under the UNCTAD TrainForTrade port training programme, Alphonse was named the programme coordinator.
"This was a very challenging assignment because the programme provides training to mid-level managers, with a special focus on operations. Although I had been working in ports for over 30 years, I had made my career in administration, not operations," he says.
To support Alphonse in that new role, UNCTAD signed him up to an accelerated version of its modern port management course. He completed the eight training modules that participants typically complete over a one-year period in just one month.
"It was tough. I hadn't studied like that since university!" Alphonse says. "But the training broadened my understanding of all the issues related to port management, and this was very important for me - it gave me credibility."
Alphonse continued to receive training through the UNCTAD TrainForTrade programme until mid-2015, updating his knowledge and strengthening his skills each time. He learned from the experiences of port officials of different countries in courses held at ports in Ireland and in countries of the English-speaking network, such as Maldives and the United Republic of Tanzania, that have partnered with UNCTAD. His aim was to be able to conduct trainings for the Ghana Ports and Harbours Authority himself.
"The programme made me versatile, and I was given the opportunity in 2010 to move from human resources to operations as a Deputy Terminal Manager," Alphonse says.
That opportunity was helping to manage the Golden Jubilee Terminal, the largest inland container depot in the country, at the Port of Tema. From 2010 when Alphonse started as Deputy Terminal Manager to 2014, his involvement contributed to making the Port of Tema more efficient through a notable improvement in the Golden Jubilee Terminal's performance. With cargo moved in and out of the Port more quickly, the number of cargo containers handled at the Terminal doubled.
"It doesn't matter how up-to-date your equipment is, if you don't get the right people in the right positions - and get them trained - the port will never reach its full potential," Alphonse points out.
Another promotion followed in 2015, to Manager of the Authority's main terminal for general cargo - the same part of the Port where he got his first job as a "sew bag". But while Alphonse returned as a manager to the human resources work he missed in July 2015, he still coordinates the programme for the Ghana Ports and Harbours Authority. Since 2008, he has helped 81 managers successfully complete the one- to two-year training course.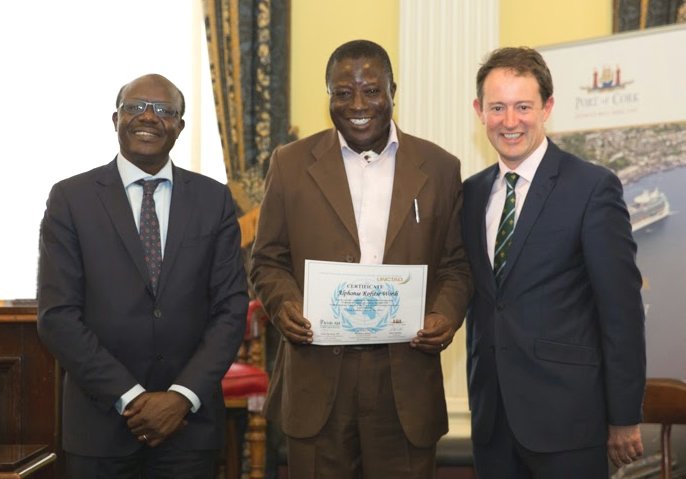 Alphonse Wordi with his certificate for the TrainForTrade's Port Training Programme, flanked by UNCTAD Secretary-General Mukhisa Kituyi (Left) and Mr. Seán Sherlock, Minister of State at the Department of Foreign Affairs and Trade, Ireland (Right)