22 June 2020
An uptick in business, especially in the delivery of food and essential items, is enhancing resilience in the wake of the crisis.
Business is booming for Cambodian online startup Grocerdel, which delivers fresh farm produce and locally made products in the capital Phnom Penh. 
Since COVID-19 struck, it has seen orders skyrocket by over 180% as people have resorted to shopping online and limited their movements to contain the spread of the virus. 
Grocerdel's sales have shot up nearly 165%, forcing the startup to increase its staff by 50% to cope with the spike in demand, while taking measures to protect its employees and consumers alike. 
"We've provided staff with sanitizers and masks, made arrangements for contactless delivery, for example by leaving baskets outside customers' premises, and started processing payments via QR codes or electronic transfers," said Priyanka Chetry, chief executive officer of Grocerdel.
Startups like hers are expanding Cambodia's budding e-commerce sector, helping blunt the impact of the pandemic on the country's economy. 
Cambodia's economic growth rate is expected to shrink to 2.3% this year, down from 7% in the last two years, according to the Asian Development Bank.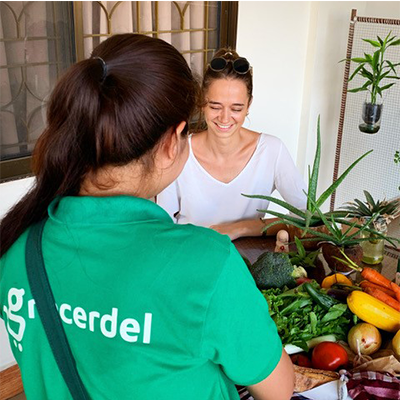 Ms. Chetry said the uptick in business, especially in the delivery of food and essential items, has enhanced resilience in the wake of the crisis. 
Towards greater heights 
The boost is propelling the country to greater heights of the digital economy. 
"Cambodia's e-commerce sector has experienced rapid growth within the past decade. Internet access, affordability and uptake have ramped up significantly," said Pan Sorasak, the country's minister of commerce. The upswing in online shopping will bolster the sector further. 
He added that the consumer base is becoming increasingly sophisticated in terms of absorbing social media, local content and smartphone-based value-added services. 
However, most of these advances are limited to major urban areas, particularly the capital. 
"Economic recovery after the pandemic will require greater efforts to foster the uptake of e-commerce and digital solutions all over the country," said Shamika N. Sirimanne, UNCTAD's director of technology and logistics. 
"Therefore, it's necessary to improve ICT connectivity in rural areas and build digital skills across local communities," she said. 
Strengthening the ecosystem
The Cambodian government has stepped up efforts to strengthen the country's e-commerce ecosystem in line with recommendations of an UNCTAD eTrade Readiness Assessment.  
For instance, it's finalizing an e-commerce strategy with the support of the Enhanced Integrated Framework (EIF), involving various key ministries. 
Last year, the country passed an e-commerce law and is now finalizing its implementation sub-decrees to ease the registration of e-commerce businesses. 
According to the commerce ministry, the government has reduced the cost of registration by 40% to ease the burden of formalization for startups. 
Also, the private sector has rolled out various initiatives to improve the business environment, such as the Ngeay Ngeay (Easy Easy) platform, which offers information needed to register a business in Cambodia. 
Cambodia also passed a consumer protection law last year to better safeguard the rights of online shoppers and businesses. A draft cybercrime law is currently under review, but significant gaps remain in the legal framework of personal data protection and privacy. 
A recent UNCTAD Cyberlaw Tracker update showed that only 66% of the nations of the world have laws in place to safeguard people's data and privacy, leaving many online shoppers at risk. 
Digital solutions to pandemic
In April, scores of Cambodian startups showcased digital solutions to challenges brought by the COVID-19 crisis in a hackathon dubbed HaKHtheCrisis organized by Impact Hub Phnom Penh. 
"E-commerce is still in its early stages in Cambodia, but we expect massive growth in the next year as businesses are forced to rapidly digitize during this global crisis," said Melanie Mossard of Impact Hub Phnom Penh. 
Ms. Chetry, who launched Grocerdel after years of working in the investment banking industry, is eager to reap more benefits from Cambodia's rapidly growing e-commerce sector, with an eye on sustainability. 
"We strive for zero use of plastics and utilize reusable cloth bags in our deliveries. Also, we ensure at least 70% of our promotions and sales highlight local suppliers," Ms. Chetry said. Women comprise 70% of both the startup's management and employees. 
Another digital marketplace, Meal Temple, a food and grocery delivery service that has flourished in Cambodia and expanded into Laos, Myanmar, Bhutan and Nepal, has also seen a jump in orders due to the pandemic. 
"We've seen a surge in demand for our services and are striving to onboard new retailers and expand our logistics," said Maxime Rosburger, chief executive officer of Meal Temple. 
Fuelling e-commerce growth 
Development partners are helping fuel the growth of e-commerce in Cambodia. 
For instance, in January the commerce ministry launched a $2.5 million project dubbed Go4eCam, funded by the EIF for the development of a unique government business-to-business and business-consumer marketplace. 
The funding also supported a bootcamp for micro, small and medium enterprises, small grants to help them launch online operations, as well as assistance to improve Cambodia Post's operational readiness for e-commerce. 
In addition, to support the COVID-19 national response, UNDP Cambodia is boosting local retailer and consumer logistics by reskilling workers while using idle capacity within the local transportation network of tuk tuks and in the hospitality industry.