05 October 2018
HiveTalks - a new way to engage - brought together NGOs and UNCTAD senior leaders to find solutions to common development goals.
The room was buzzing at a special event bringing together civil society representatives and UNCTAD in Geneva on 1 October.
The HiveTalks evening took the form of several rounds of moderated brainstorming with participants circulating between groups to "cross-pollinate" new ideas on how to make trade a better tool for development.
"New challenges require new thinking," UNCTAD Secretary-General Mukhisa Kituyi said, welcoming the novel method of engagement between civil society and UNCTAD. Previous meetings, usually comprising formal hearings, have sometimes been short on dialogue, so the HiveTalks intentionally ditched speeches and statements.
"There will always be disagreements, but we can renew our processes. It gets stale when you repeat the same things over and over again," Dr. Kituyi said.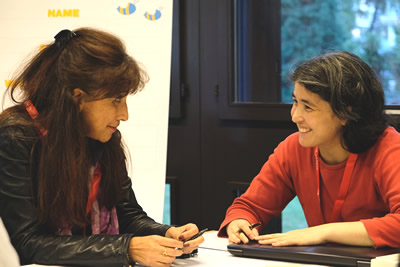 UNCTAD Deputy Secretary-General Isabelle Durant was the driving force behind the HiveTalks, with experience of the format from her previous work as the European Parliament's vice president.
"The idea is to do things differently, not only to talk about how civil society can work with UNCTAD but also how we can identify the best ideas to reinforce our common goals," Ms. Durant said.
"It's not an open discussion without rules, but a new way of coming together. This is the beginning of a process."
Forty representatives of accredited non-governmental organizations (NGOs) took part in the event, held at the Graduate Institute of International and Development Studies. They split into five groups to discuss how civil society can work with UNCTAD on the same number of topics: from climate change, technology and e-commerce, to gender, crisis and resilience, and inequality.
Impressive innovation
Participants repeatedly switched groups to inject variety into the discussions.
"A diverse group is smarter than a group of smart people," explained facilitator Dimitri Lemaire.
Broad recommendations that emerged from the HiveTalks included creating an "institutionalized space" for NGOs in developing countries to contribute to intergovernmental negotiations, a push to break silos between the trade and climate change communities, more support for technology "centres of excellence" and efforts to combat the shrinking influence of civil society.
Ms. Durant said that she would study these ideas and connect with participants for detailed follow-up. Many participants liked the new style of engagement, with one describing it as "a good experience with democracy".
"I found the event very innovative, and it's very interesting to share experiences between different NGOs. Also, I think UNCTAD is doing very good work, and that's why I came and I'm really happy about it," said Nadege Chell, president of RESO-Femme, which promotes political and civic participation of women in West Africa and serves as a bridge between women and decision-making centres.
"This event is very impressive. It's interactive and encouraging, and I hope to see more," added Abraham Sanyo of Centre d'Encadrement et de Développement des Anciens Combattants (CEDAC), which aims to improve the lives of 25,000 ex-fighters and young victims of war in Burundi.
Mr. Lemaire and Stephen Boucher of Brussels-based creative event organizers Inventio Group facilitated the HiveTalks – a concept which was devised by Mr. Lemaire earlier this year, and is based on the idea of a beehive, harnessing the power of collective intelligence and experience to come up with strikingly innovative ideas. UNCTAD officials Tamara Gregol de Farias, Robert Hamway, Martine Julsaint, Julia Seiermann and Kris Terauds moderated the groups.
Garance Upham, vice-president of the World Alliance Against Antibiotic Resistance and a 40-year veteran of meetings between civil society and United Nations entities, said the evening threw up "a lot of very interesting ideas."