21 November 2022
Governments should rally civil society organizations in improving the safety of products offered to consumers.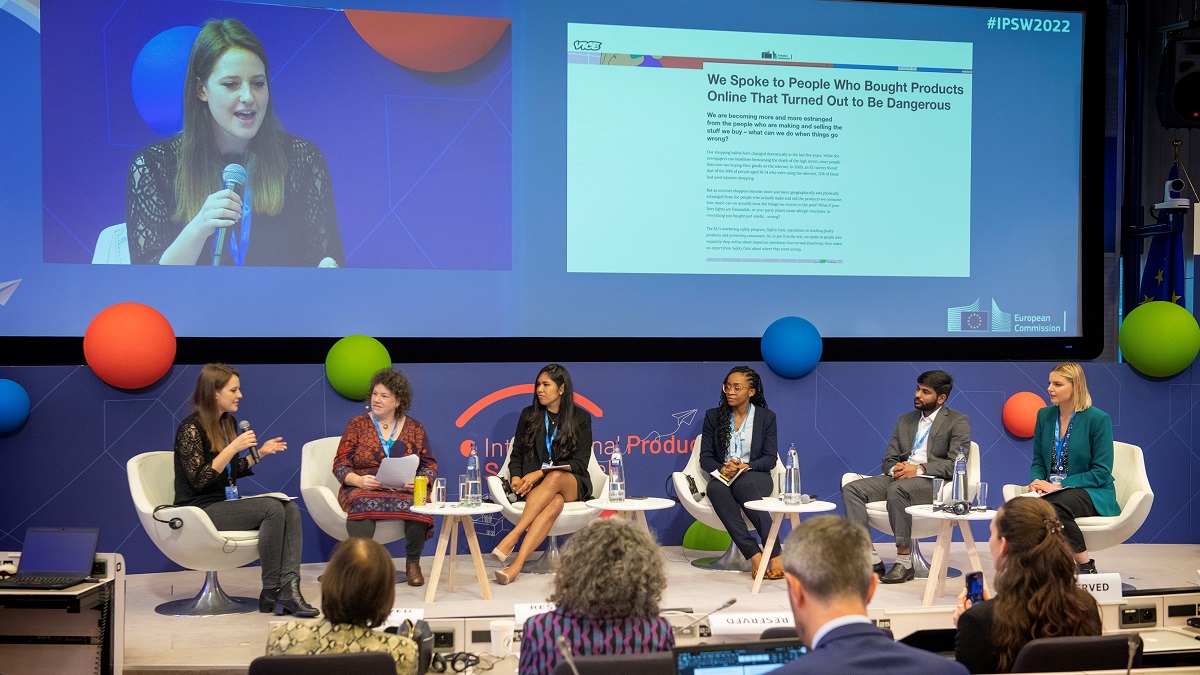 © Simon Pugh Photography/EC | Experts at the joint workshop discuss how to ensure the safety of products offered to consumers.
Consumers have the right to safe products but this right is constantly under threat. In the European Union alone, unsafe products cause accidents and losses estimated at $34.4 billion per year, according to the European Commission.
This trend, though less reported, is replicated in the developing world.
National market surveillance authorities need help to protect consumers from hazards to their health and safety. They're increasingly enlisting civil society organizations in this endeavour. These organizations educate, advise, represent and counsel consumers to enforce their rights.
"Civil society plays a key role in raising awareness among consumers and in signaling dangerous products in markets," said Teresa Moreira, head of competition and consumer policies at UNCTAD, during a joint European Commission – UNCTAD workshop on product safety on 17 November.
"National governments need to empower consumer groups to fulfill their mandate in ensuring product safety," she added.
To do so, UNCTAD recommends that consumer groups participate in consultations informing policymaking processes. These groups can be granted the right to represent consumers' interests in court, especially in collective cases.
They can also alert market surveillance authorities about emerging product safety issues and amplify the impact of awareness-raising campaigns. In some countries, consumer groups even participate in the enforcement of consumer laws.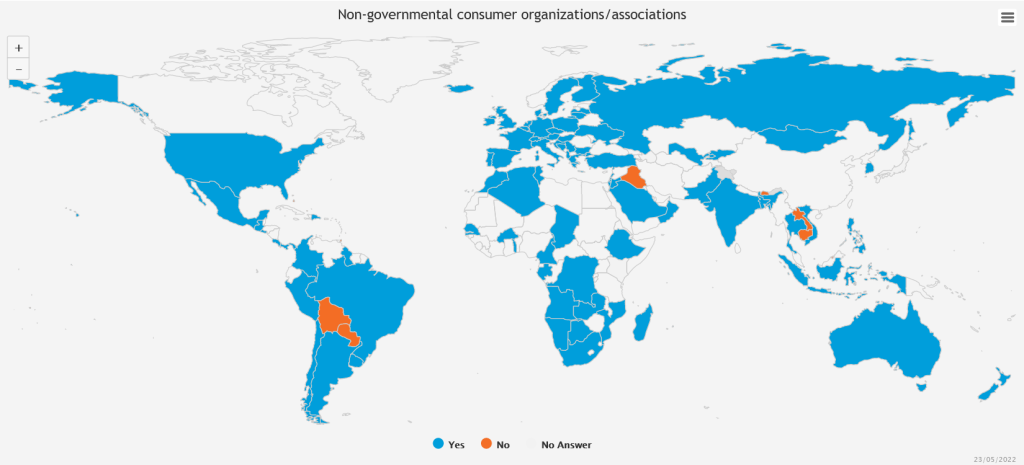 Source: UNCTAD World Consumer Protection Map, 2022
The strength of civil society
UNCTAD's World Consumer Protection Map shows that 81% of countries have active consumer protection groups. As recognized in an UNCTAD report, consumer associations are essential actors in institutional frameworks for effective consumer protection as they represent the voice of consumers.  
"We based our strategy on product safety on integrating feedback from consumer associations, and we have a formal consultation network with consumer groups at federal and state levels," said Alma Contreras, deputy legal attorney at the Mexican Federal Consumer Protection Agency. "We learn a great deal from grassroots consumer associations on markets and business practices," she added.
"Many years ago, a defective gas-cooking stove killed an Indian consumer. Our associations represented her right in court and obtained compensation for her family. It allowed us to approach the Indian government and propose policy changes to the benefit of millions," said Shirish Deshpande, chairman of the association Mumbai Grahak Panchayat.
Risks to youngsters on social media
Young consumers are engaging with and buying from online businesses in new and creative ways. Market surveillance authorities are having a hard time catching up. For example, most product safety alerts are placed on Facebook and Twitter, but young consumers overwhelmingly use Snapchat and TikTok, participants at the workshop said.  
"Online businesses are using sophisticated targeted marketing to reach young consumers. Regulators should 'tool up' in using new technology and social media in ways that match the private sector to educate young consumers," said Ugochi Obidiegwu, social development strategist and founder of The Safety Chic in Nigeria.
"Messages to young consumers should be simple, relatable and fun. Social media users expect to be entertained," said Elizabeth Iberico Robles, head of department at Peru's largest consumer association ASPEC. "This year, our association launched a simple video about chemical hazards in onions and reached 1 million views on TikTok in less than three days," she added.
Experts identified the hazardous misuse of products promoted on social media, banned dangerous goods advertised by influencers and the role of consumer comments as emerging areas of focus for consumer product safety authorities around the world.
UNCTAD previously held joint workshops on product safety with the European Commission in 2021 and 2020.