14 September 2012
Addressing the plenary session today in Manila, the Philippines, of the Asian Development Bank's 20th anniversary celebration of the Greater Mekong Subregion Economic Cooperation, Dr. Supachai stressed the importance of developmental regionalism for sustained and inclusive growth.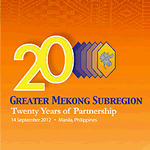 He said that in the years ahead, especially given the halting progress in new global arrangements, greater attention will have to be paid to regional and sub-regional partnerships. This is certainly true in the area of finance where developing regions have begun to explore mechanisms, like the Chiang Mai initiative -- a regional foreign exchange liquidity support mechanism -- developed as a result of the 1997 Asian financial crisis to deal with shocks and to coordinate policies. But the regional agenda goes beyond that, he said.
Asian efforts at regional integration are being pursued under formats that point in the direction of what UNCTAD calls developmental regionalism, including development cooperation in sector-specific areas and in joint management of regional public goods like transportation, environment, water, etc. It is advisable for Asia to move expeditiously to complete these integration agendas before moving into more negotiations with wider geographical coverage, he said.
The Greater Mekong Subregion (GMS), through which the Mekong River passes, comprises Cambodia, the Lao People's Democratic Republic, Myanmar, Thailand, Viet Nam, and Yunnan Province of the People's Republic of China. It has a population of approximately 250 million, and a total gross domestic product of US$ 212 billion.
The GMS Program was initiated in 1992 by the Asian Development Bank (ADB) with the objective of achieving cooperation and accord among the six countries in planning and promoting subregional economic development.
Since 1992, the Asian Development Bank (ADB) has approved $39 million in technical assistance projects for the GMS Program, and $465 million in loans (plus $234 million in co-financing). ADB support covers seven sectors (transport, telecommunications, energy, tourism, environment, human resource development, and trade and investment).
Founded in 1966, the Asian Development Bank now has 48 regional member countries and 19 nonregional members, with 2,900 employees and representative offices in Tokyo, Frankfurt, and Washington, DC. It's approved financing budget in 2011 was US$ 21.72 billion. In partnership with member governments, independent specialists and other financial institutions, the ADB's focus is on delivering projects that create economic and development impact.
In June 2006, ADB President Haruhiko Kuroda set up a Panel of Eminent Persons to advise the ADB on key trends and development challenges ahead in the Asia and Pacific region and the institution's long-term direction in the context of a rapidly changing Asia and Pacific region.
The six-person panel was chaired by Dr. Supachai Panitchpakdi, Secretary-General, UNCTAD, and comprised Ms. Isher Ahluwalia, Chairperson, Indian Council for Research on International Economic Relations; Mr. Nobuyuki Idei, Chief Corporate Advisor, Sony Corporation; Mr. Caio Koch-Weser, Vice Chairman, Deutsche Bank; Mr. Justin Lin, Professor, China Center for Economic Research, Peking University; and Mr. Lawrence Summers, President, Harvard University.
The panel submitted a report in March 2007 entitled: "Toward a New Asian Development Bank in a New Asia."