31 March 2015
Representatives of the Economic Community of West African States (ECOWAS) met at UNCTAD seminar to share best practices to advance in cyberlaw harmonization in the fields of e-transactions, data protection and privacy, cybercrime, online consumer protection and taxation of e-commerce.
As part of the UNCTAD E-Commerce Week, forty-five representatives of the fifteen ECOWAS countries participated in a seminar on cyberlaw harmonization in Geneva from 23 to 24 March 2015.
It was opened by H.E. Ms. Nakpa Polo, Ambassador, Permanent Mission of the Togolese Republic to the United Nations, who emphasized the need to create an enabling legal environment to reap benefits from information and communications technologies (ICTs). She thanked UNCTAD for supporting capacity-building in the region.
Mr. Zotawon D, Titus, Deputy Minister, Department of ICT & Telecommunications, Ministry of Posts & Telecommunications of Liberia highlighted the challenges faced by the region and the need for such regional gathering:

ECOWAS countries are at different phases in implementing electronic transactions and such transactions need to be safeguarded.
Hence, the need for stakeholders across the region to ensure the harmonization of cyber law across member states has implications for effective governance as cyber crimes knows no boundary.
Essentially, this workshop has accentuated the need for policy makers, regulatory authorities and other such players responsible to drive the sustainable development of the sector to adopt common principles and approaches to achieve this objective.
Addressing cyberlaw harmonization with a sense of urgency is one of such approaches.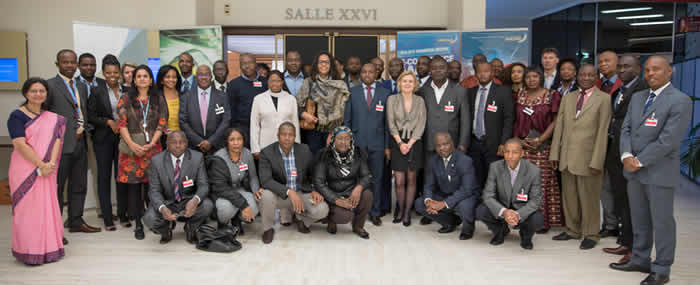 [Click to expand image]
An excellent platform for discussion
The seminar was organized by UNCTAD and the ECOWAS Commission with the support of the Government of Finland and the United Nations Development Account and provided a platform to discuss how existing regional legislation on e-commerce, cybercrime and data protection could be implemented at the national level. It was also an opportunity for ECOWAS representatives to exchange best practices and discuss how to further enhance cyber legislation in the region.
Suggestions included securing high-level commitment of the government to push for legal reform, the creation of an intergovernmental committee on cyberlaws, as ICTs involve many cross-cutting issues, the involvement of relevant stakeholders, the use of awareness campaigns, once laws are adopted, to sensitize the citizens, the judiciary, enterprises, etc.
Participants identified a need for increased support to countries that have not yet transposed regional legislation into their national laws. Currently, out the fifteen ECOWAS countries that were present, seven have specific laws on e-transactions while six have draft laws; 7 have data protection laws and another 7 have draft legislation; and 4 have adapted their legislation to cybercrime and 6 have draft laws. Some have not been able to advance due to lack of resources and capacity.
Presentations were made by leading academic experts and representatives of the United Nations Commission on International Trade Law (UNCITRAL) and the International Telecommunication Union (ITU). The discussion also addressed consumer protection and taxation, following the recommendations made by Member countries at earlier occasions.
Recommendations proposed by ECOWAS Countries
Ratification of the Convention on Cybersecurity and the Protection of Personal Data of the African Union.

Development of region-wide legislation on consumer protection, taxation and cross-border e-payments.

Development of an appropriate regulatory framework for electronic signature and electronic certification.

Establishment of domain names regulation to promote e-commerce for the benefit of ECOWAS countries

Set up of a regional certification authority, with adequate resources.
The participants recognized the value of the UNCTAD's capacity-building activities, including through the onlineUNCTAD TrainForTrade platform. They suggested extending this training and technical capacity-building to the judiciary and the police.
The seminar was a follow-up to an UNCTAD distance-learning training which reached 380 policy and law makers in the region and to two regional workshops which gathered 45 representatives from ECOWAS member States in 2014.
It was part of the capacity building activities organized for the period 2013-2015 by UNCTAD to assist ECOWAS member countries to develop harmonized legislation on e-commerce.
A review of e-commerce legislation in the ECOWAS will be finalized and published in the coming months.