17 March 2015
​"Enhancing e-commerce laws and regulations for inclusive growth and development", will be the focus of UNCTAD E-Commerce week (23-27 March).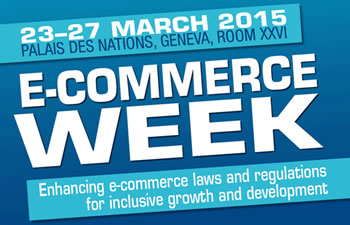 23-24 March
ECOWAS Seminar on Cyberlaw Harmonization
(by invitation only)
The seminar will address the current state of e-commerce laws in ECOWAS.
It will provide a platform for representatives of ECOWAS to discuss how to facilitate the implementation — at the national level — of existing regional legal frameworks on electronic transactions, cybercrime and the protection of personal data.
24 March (16:00-17:30)
Launch of the Information Economy Report 2015
Featuring for the first time the UNCTAD business-to-consumer E-commerce Index and Global Cyberlaw Mapping.
With the participation of Dr. Mukhisa Kituyi, Secretary-General of UNCTAD and followed by the signing ceremony of a memorandum of understanding between UNCTAD and the World Information Technology and Services Alliance (WITSA).
25-27 March
Expert Meeting on Cyberlaws and Regulations for Enhancing E-commerce: Including Case Studies and Lessons Learned
Meet experts from Governments, eBay, Jumia, Central Bank of Kenya, European Commission, OECD, ITU, UPU, UNCITRAL, UNODC, World Bank, Consumer International, United States Federal Trade Commission, China International Electronic Commerce Center and many more.
Follow us on Twitter: https://twitter.com/ICT4DatUNCTAD