14 September 2017
The 64th session of UNCTAD's Trade and Development Board is underway, and Secretary-General Mukhisa Kituyi has used the occasion to spotlight how the organization and its members are facing up to the challenging global environment.
In Monday's opening session of the Trade and Development Board (TDB), Dr. Kituyi underscored the importance of rallying to the defence of multilateralism in a world where "mercantilist self-interest" is coming to the fore.
Given that multilateralism is the defining characteristic of the United Nations, it is critical that all UN organizations play their part in that defence, given that it is in the interests of the international community as a whole. 
"We must unite as members of the UN family and rally to the defense of multilateralism to confront and overcome these challenges," said Dr. Kituyi.
That underpins the ongoing UN reform process, as the international system looks for more thought leadership and integrated approaches -- things that are at the heart of what UNCTAD does.
Dr. Kituyi noted that working together within the UN and beyond is the guiding principle of the 2030 Agenda for Sustainable Development, adopted by the entire international community in 2015.  The ambitious package of measures, which include the 17 Sustainable Development Goals, form the "defining agenda of our time," he said.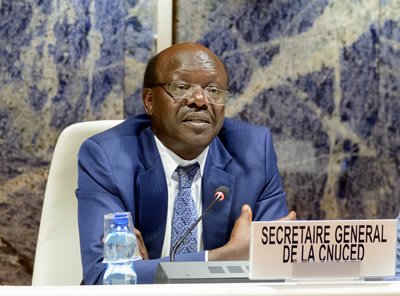 Mukhisa Kituyi
Secretary-General of UNCTAD
Download:
The TDB meets up to three times a year in between the quadrennial editions of the UN Conference on Trade and Development, to deal with urgent policy issues, as well as management and institutional matters.
This TDB session, which runs until 22 September, is taking stock of the work done since the UNCTAD XIV summit, held in Kenya in July 2016. The "Nairobi Maafikiano" report, adopted by governments there, highlighted the link between trade and sustainable development.
"Our approach is balancing agility with prudence," Dr. Kituyi said. "We have prioritized those elements of the Maafikiano that are the newest, and the most impactful."
The year 2015 was a defining one for the next decade and a half, with the Addis Ababa Action Agenda on financing for development also having been adopted. Like the Maafikiano, it calls for a revitalization of UNCTAD, with a central role in building productive capacity and spurring the gainful integration into the world economy of developing countries, to accelerate the movement towards prosperity for all.