20 October 2022
The climate emergency, a global cost-of-living crisis, debt distress, widening inequalities and other overlapping crises call for political leadership and multilateral action.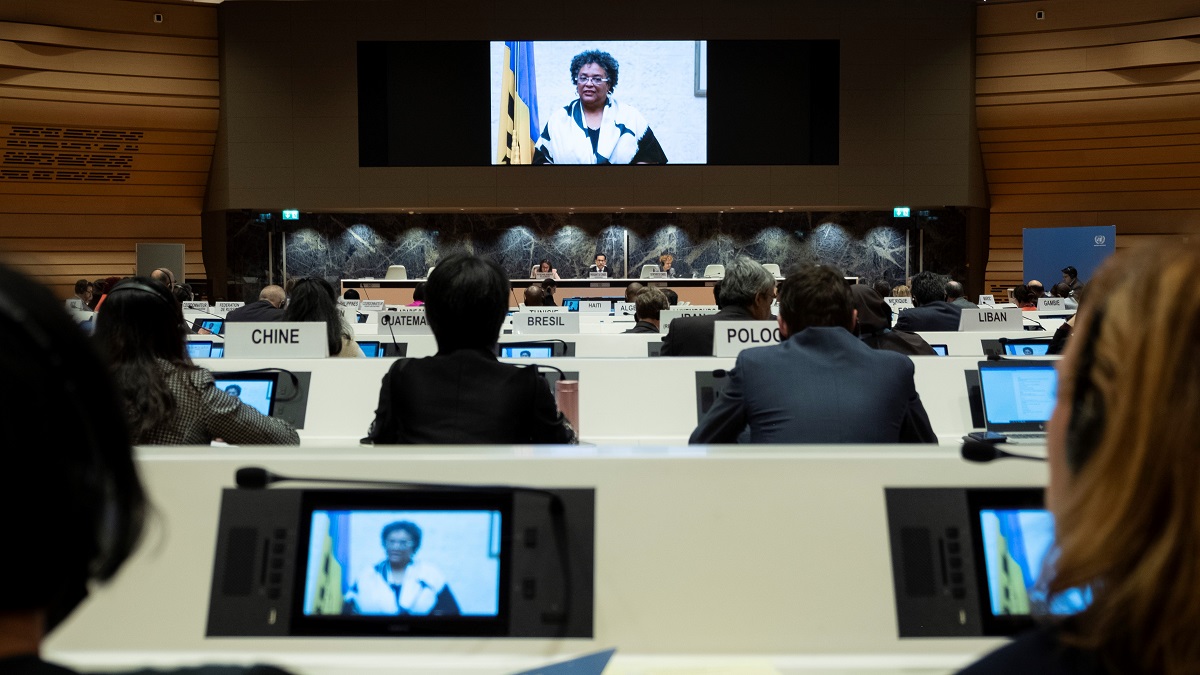 UNCTAD Photo | Barbados Prime Minister Mia Mottley addresses UNCTAD's Trade and Development Board on 20 October 2022.
Tackling the current cascade of crises facing the world and getting the global economy back on track requires political will and action, leaders said during the high-level segment of UNCTAD's Trade and Development Board on 20 October.
UNCTAD Secretary-General Rebeca Grynspan said: "The institutions are there. The resources are there. The vehicles to channel the resources are also there. What is needed is the leadership to recognize that much more must be done with what we already have at hand."
Despite the challenges facing multilateralism, Ms. Grynspan said there was reason for hope, as shown by the Black Sea Grain Initiative signed in July with Turkiye, Ukraine and the Russian Federation. Read her full statment.
The UN-backed initiative has opened a grain corridor through which almost 8 million metric tons of food have flowed back into world markets. "These initiatives show that diplomacy is still possible, even in the most challenging circumstances, even in the middle of a war zone," Ms. Grynspan said.
She highlighted the plight of developing countries facing shrinking fiscal space, rising food and energy prices and debt distress, urging international financial institutions to provide more liquidity to these countries.
"In all, liquidity in the Global South is evaporating at rates we have not seen since the 80s," Ms. Grynspan said. "Money is going the wrong way, at the wrong time."
Developing countries need fiscal space to have a fighting chance
UN Deputy Secretary-General Amina Mohammed echoed the call for more liquidity for developing countries, saying they "need fiscal space to deal with inflation, to deal with debt and to deal with climate change."
She said what is on offer is not enough to cover their $4 trillion development funding gap, calling for a new allocation of special drawing rights (SDRs), more pledges to recycle SDRs and more structured and automatic ways to allocate them in times of crisis.
Ms. Mohammed also underlined the need to address the debt crisis in developing countries, urging the establishment of a new debt service suspension mechanism, and the inclusion of middle-income countries.
She also called for more investment towards the achievement of the Sustainable Development Goals (SDGs).
She said multilateral development banks can help close the SDG funding gap, bring in the private sector at scale, support developing countries in their transition to renewable energy and save the 2030 Agenda for Sustainable Development.
Ms. Mohammed called for more funds to tackle climate change, saying the upcoming 27th UN Climate Conference (COP27) must send clear signals on increasing such financing "for developing countries to have a fighting chance."
Call to reform global financial system
Barbados Prime Minister Mia Mottley said the global financial architecture needs to be reformed to unleash trillions of dollars for developing countries in need of more liquidity.
She called for the "provision of emergency liquidity to countries that simply cannot go much further without access to more liquidity."
She also decried the inadequate international action to tackle the climate crisis, debt distress and rising inequality within and between countries, which has pushed more people into poverty around the world.
"Developing countries, particularly small island developing states and least developed countries, landlocked countries all have become more vulnerable," Ms. Mottley said.
She pointed out that debt vulnerability continues to constrain the extent to which governments in developing countries can offer meaningful solutions to their citizens.
At the same time, multilateralism is facing its biggest test, Ms. Mottley said. "Recent international geopolitical tensions serve only to exacerbate an already fractured multilateral system."
Need to revitalize multilateral system
In the face of interconnected crises, the multilateral system needs to be strengthened and supported to address these challenges, said Sigrid Kaag, First Deputy Prime Minister and Minister of Finance of the Netherlands.
She urged the international community to "show political will, use available platforms and offer the financial means" to help countries tackle the acute food, climate and debt crises unfolding around the world.
Ms. Kaag said soaring food prices, unsustainable debt levels and devastating impacts of climate change are a concern to many people around the world. "We need to act and find solutions," she said.