21 April 2015
​Four investment promotion agencies (IPAs) have received top accolades for "excellence in web-based promotion of green foreign direct investment (FDI)" at the UNCTAD Investment Promotion Awards. The awards were presented on 20 April 2015 during the seventh session of UNCTAD's Investment, Enterprise and Development Commission.
Germany Trade & Invest was awarded for its large and well-documented coverage of green sectors on its website, as well as for the presentation of success stories and industry-specific information on green investment facilitation.
Invest in Morocco received the award for its website's focus on renewable energy and the presentation of related policies and programmes.
The Singapore Economic Development Board was honoured for its website's detailed coverage of a variety of green industries, as well as for highlighting investment opportunities in the environment and energy.
A runner-up award went to the Moldovan Investment and Export Promotion Organisation for a special section on green investment on its new website.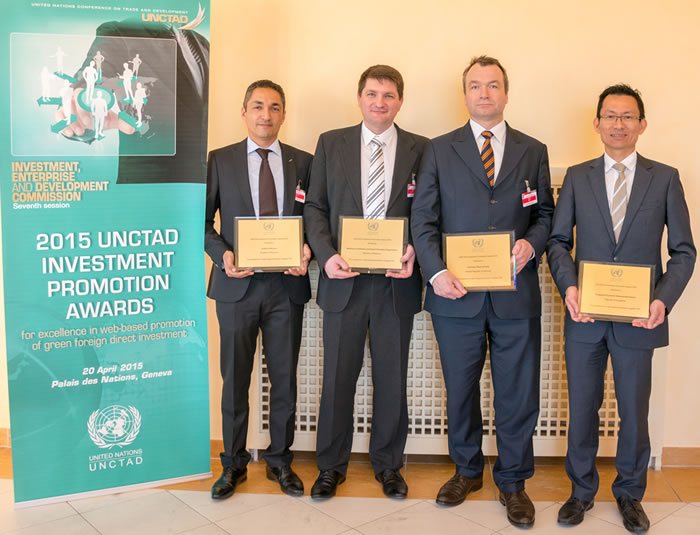 UNCTAD Investment Promotion Award winners of 2015
From left to right: Mr. Ali El Yaacoubi, Acting Investment Promotion Manager, Invest in Morocco; Mr Octavian Berzan, Deputy Director of the Republic of Moldova's MIEPO; Mr. Achim Hartig, Managing Director Investor Consulting, Germany Trade & Invest; and Mr. Kian Teik Beh, International Director of Europe, EDB Singapore
Technology plays a key role in publicizing locations and investment opportunities to potential investors, and many IPAs now showcase their programmes on web-based platforms to enhance their reach. This year's UNCTAD Investment Promotion Awards therefore acknowledge IPAs for the extent to which their websites are leveraged to promote green FDI.
Many governments recognize the pressing urgency of a broad range of environmentally-related issues ranging from climate change to biodiversity loss, water-related challenges and resource scarcity. Green investment is pivotal to help find solutions to these problems but "greening" the economy also brings other benefits such as job creation, innovation and technology transfer, increased competitiveness and overall economic development. Growth in the sector has boomed since the start of the new millennium, with more than US$0.5 trillion of FDI flowing to green sectors globally between 2003 and 2014.
UNCTAD's Investment Promotion Awards are presented annually as part of its investment promotion and facilitation programme to honour best practice among IPAs and celebrate their achievements. Inaugurated in 2002, the Awards have focused on various aspects of investment promotion with special attention to the contribution of investment promotion to sustainable development.