20 September 2020
​The fourth industrial revolution and the transition towards digital economies continue sparkling the global debate on new opportunities and jobs. Digital entrepreneur Francisca Chia tells her story.
While rapid technological advancements such as artificial intelligence and the development of robotics and the resulting automation take place, the job market is also undergoing great change.
Conventional full-time and life-long employment is more and more being revisited as more people acquire multiple streams of income from a variety of jobs, while also shifting between different industries throughout their working life.
These new types of jobs, often called "gigs", are generating a gig economy, where short-term contractors can be accessed through mobile applications. GoGet is one such app that is driving this trend in Malaysia.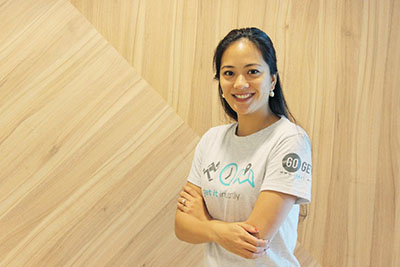 Francesca Chia, co-founder of GoGet
GoGet on a Mission
How will the work look like tomorrow? According to Francesca Chia, a young digital entrepreneur from Malaysia, technological progress offers new and exciting possibilities for the future of work. She is the co-founder and Chief Community Manager of GoGet, a future of work company offering an online marketplace for errands and deliveries facilitated through by mobile technology.
Since 2014, individuals and small businesses in Kuala Lumpur and the areas of Penang and Johor Bahru can hire short-term help for specific tasks and scale up their operations without committing to the full-time cost and flexible workers are empowered to earn on a trusted and safe solution.
"In GoGet we believe in a new wave of work, where busy people can outsource their to-do list to others from the community and create opportunities that never existed before," she explains.
Now, a small florist or bakery can hire part-timers to ramp up their deliveries, and stay-at home mothers can earn money without committing to full-time jobs. "Our core objective is to help SMEs who can't do everything on their own and also generate opportunities to empower people through self-employment," Francesca says.
She believes that the digital area is bringing changes that are already fundamentally transforming workplaces. "Work doesn't only need to be sitting in an office from nine-to-five. Smart technologies are unlocking more options on demand and enabling people to have more sources of income, which is amazing," she adds.
From PowerPoint to Ice-Cream Partnership
GoGet was inspired by the idea of serving people in the community. Francesca and her co-founders were driven by the belief that every successful entrepreneurial venture needs to be oriented toward solving a problem. She developed her problem-solving skills during a 4-year tenure as a Management Consultant at Boston Consulting Group (BCG) which she has been able to apply in her entrepreneurial journey.
"What I learned is that you need to have a genuine interest in solving a problem you care about; only then you will be able to weather difficult times," she muses.
Francesca calls herself an "accidental entrepreneur". While considering her next career step at BCG, the two things she envisioned herself working towards were creating social change and executing strategies.
"I didn't have that aha! moment. My friends and I had been discussing this idea over coffee which eventually turned into a PowerPoint presentation. I called my boss to take a few months off and never looked back."
She met her first partner at an ice-cream shop a few months later, bonding over her dog. The ice-cream shop owner loved the idea of GoGet and offered to partner up. Delivering ice-cream ended up being her first business assignment.
Learning and Growing
Today, more than a quarter of a million individuals, from micro-entrepreneurs to large corporations use GoGet for a variety of tasks; from delivering groceries, data entry to flyering and promoting events. At the same time, flexible working arrangement allow the unemployed or retired people to become active again and earn additional income.
As Francesca explains: "At first we thought our main priority to deliver on-demand logistics fulfilment. However, we realized that the bigger impact was to give money back into the pockets of GoGetters".
Having a business culture that focuses on people, GoGet is constantly making a transformative impact on the industry, recently adding financial services to safeguard their workers and build a sustainable future of work. "Regardless of their background, we want people to find flexible work, manage what they earn and not get left behind in the technological revolution" Francesca says.
However, her entrepreneurial journey has brought its share of obstacles along the way. As Francesca explains: "The biggest challenge was educating the market about who we are and what we are about. 2014 was really hard for us, but we had to gain the trust of the public. So, we decided to take photos of every job we did and posted it online to make people trust our brand."
Nowadays, Francesca continues her starting mission to empower people in the digital era. By connecting users with part-timers to offer new employment opportunities and making the labour market more efficient, GoGet plays an integral part in shaping the next generation of work in Malaysia.
With experience becoming a brand of its own, and consumers trusting and buying from brands delivering unique and personalized experiences, businesses have been compelled to respond. Francesca foresaw this trend from the very beginning. "Our mission has always been to put a smile on a customer's face", she says.
Her company delivers a personalized experience through its services which subsequently enhances other businesses' operational efficiency and raises their value. "We want to redefine consumer experience. With our services, merchants can get to know their customers better and reach them in a new and sophisticated way because now they know who wants what and when".
Taking part in the eFounders Fellowship programme, a joint initiative of UNCTAD and the Alibaba Business Group in Hangzhou, China, Francesca saw first-hand how technology can drive inclusion and social change. Her biggest takeaway was adopting an ecosystem solution to help grow businesses and advance industries.
"We think of ourselves as more of a future of work ecosystem player who needs to work together with payment and e-commerce players to make everyone grow faster," Francesca says.
To make the digital economy a truly inclusive place for its users, Francesca and her team developed partnerships with several Ministries in Malaysia and championed regulations that are adapted to the evolving economy, without hindering business growth, innovation or social impact.
When the Malaysian Government imposed the Movement Control order during COVID-19 many businesses came to a standstill. This forced Francesca and her team to look at the crisis from a different perspective. They identified two focus areas for immediate action. First, to create a safe community platform and help people out.
She explains: "With all the changes that were happening, we needed to create a safe community for our team first".
Their next move was to collect COVID-19 data points for GoGetters, enable cashless payment methods and regularly issue health updates to keep everyone well-informed.
"Our second focus was to be a trusted partner and help businesses stay afloat" she adds. GoGet started integrating with online stores to provide on-demand delivery services and formed a partnership with Lazada, a large e-commerce platform in Southeast Asia to help bring fresh products from farms straight to customers. "This helped the value chain and industry to survive without throwing all the crops away because the city was under lockdown," she explains.
Francesca is a strong believer in the power of technology to catalyze positive social change. For her, the future is already here and full of exciting new prospects. Reimagining how people view the future of work remains her mission; she believes that more businesses working together and embracing change will ultimately transform our working culture for the better. The question is, who else will join her in leading the change?
eFounders Fellowship Programme
UNCTAD's smart partnership with the Alibaba Business School aims to bridge the digital divide in Africa and Asia and empower young e-founders in developing countries to become champions for the new economy.
The partnership is the brainchild of UNCTAD Secretary-General Dr. Mukhisa Kituyi and Jack Ma, founder and executive chairman of Alibaba Group, who served as a special advisor to UNCTAD on young entrepreneurs and small business.