13 July 2021
Young trailblazer Muhammad Sarim Raza is using technology to deliver healthcare services to medically underserved communities in Pakistan.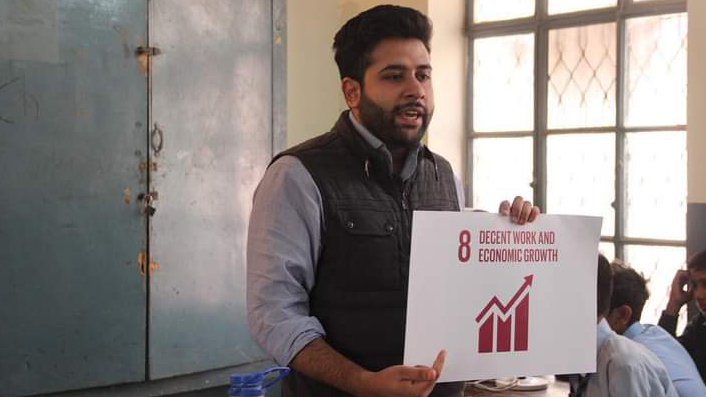 Even before the COVID-19 pandemic, visiting a doctor in rural Pakistan was an expense few could afford.
Almost 70% of the Pakistani population lives in underserved rural areas, where healthcare services are hindered by the lack of medical personnel, sparse facilities, and the high cost of treatments.
Things worsened in the wake of COVID-19, which disrupted supply chains and interrupted the delivery of vital medicines.
Reimagining health care
As the country fights the pandemic, Muhammad Sarim Raza (24) is using technology to reimagine how health care is delivered to the most vulnerable people in Pakistan.
He's the founder of Riayat, a social enterprise. He also coordinates the Youth Action Hub Pakistan, an UNCTAD youth network of young change makers running innovative programmes to improve the lives of local people.
Mr. Raza has partnered with Idara al Khair, a local nonprofit organization, to improve health-care coverage for rural dwellers.
They are using telehealth – the provision of health-care services via electronic information and telecommunication technologies – to offer virtual medical consultations to patients in remote locations, and in the comfort of their homes.
"Many people can't afford to physically go to a doctor. Our e-health initiative makes consultations affordable and available to low-income communities," Mr. Raza said.
Saving lives amid the pandemic
As the pandemic pushed more people into extreme poverty, Mr. Raza and his team are seeking to save Pakistani lives by expanding access to health-care services and spreading information on disease prevention measures.
At the peak of the COVID-19 outbreak in the country, his team created an e-health platform and mobilized local teachers to conduct door-to-door visits to introduce residents to it, offering general medical check-ups free of charge.
They also established an e-clinic at a local school and organized a virtual workshop to train the teachers on how to register patients on the platform and book appointments with doctors.
A psychologist trained the teachers on how to identify mental health problems such as stress, anxiety and depression.
After the two-week course, the teachers were deployed to visit needy families and collect data on their incomes and prevalent diseases, information that was later used to create a pricing model for the e-clinic.
The team visited 90 families comprising about 540 people and registered them on the platform.
"Physical health was not the only concern. We found that people didn't realize their mental health was deteriorating due to the stress and anxiety caused by not being able to provide food to their families," Mr. Raza said.
They also found that many people didn't know the benefits of good mental health. "They believed that if physical needs were met, mental health didn't matter," Mr. Raza said.
The collected data also showed that many people suffered from ear, nose and throat diseases. Mr. Raza's team arranged for the sick people to speak to specialized doctors and receive targeted care at the e-clinic.
Today, the e-clinic has evolved into a subsidized medical centre with doctors, nurses and technicians. With specialized care and emergency treatments now available to the local community, the number of patients is steadily growing.
Using technology for good
Mr. Raza is committed to using technology for good – expanding access to health care, education and employment opportunities for all.
"Internet connectivity and access to a digital world is a critical part of an equitable future," he says, "whether it's food insecurity or unemployment, lack of digital inclusion will exacerbate existing inequalities."
His enterprise's first project involved distributing food supplies to more than 300 low-income households around Karachi, Lahore and Multan cities in Pakistan to tackle hunger, while creating awareness on how to curb the spread of COVID-19.
During the project, he identified weak internet connectivity and the lack of digital literacy as key barriers for many people. He then mobilized Youth Action Hub Pakistan to launch the "Right to Technology" initiative to advocate for digital inclusion.
Mr. Raza plans to work with more young people across Pakistan to use digital tools to deliver value to their communities. "The choices we make right now will shape the digital transformation around us," he said.
Created in 2018, the Youth Action Hubs initiative empowers young people to think globally and express their views on matters within UNCTAD's mandate.
It enables them to act locally as game changers in their communities by setting up projects related to the UN Sustainable Development Goals. Currently, there are 46 Youth Action Hubs worldwide.