11 March 2019
Cotton industry officials from Africa visit India to see how entrepreneurs are turning unused parts of the crop into renewable energy for businesses and extra income for farmers.
Suffocating smoke engulfs parts of India in autumn as farmers burn fields to clear harvest leftovers deemed worthless, such as cotton stalks.
So common is the practice that on some days agricultural fires contribute to about half of Delhi's deadly pollution, according to researchers from the Harvard John A. Paulson School of Engineering and Applied Sciences.
But the unwanted parts of the cotton plant going up in smoke could instead be sold as clean fuel – in the form of briquettes or pellets – to replace coal and wood in boilers and heaters.
"These cotton by-products can boost farmers' incomes and help reverse the impact that burning agricultural waste has on the environment and public health," says Pamela Coke-Hamilton, who heads UNCTAD's division on trade and commodities.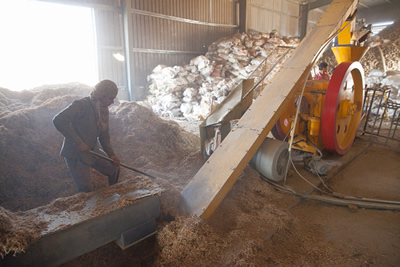 "This story isn't unique to India," she adds. "Every year, poor cotton farmers across the globe burn parts of the crop they could turn into cash."
In the African nation of Zambia, for example, a recent UNCTAD study showed that turning cotton "waste" into briquettes and pellets could earn farmers an additional $3 million each year.
The Zambian study was part of a project to promote cotton by-products in Eastern and Southern Africa – a region where cotton once played a strategic role in the economy but where production dwindled as the crop became less lucrative to grow than others.
Seeing is believing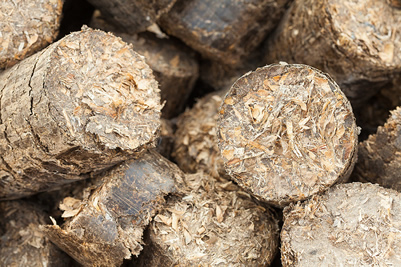 The project, which includes Tanzania, Uganda and Zimbabwe, works with farmers' associations, government officials and businesses in each country to identify new opportunities to produce cotton by-products like briquettes and pellets, for which global demand is growing.
Since "seeing is believing," UNCTAD recently took three dozen participants to Nagpur, India, so they could witness how entrepreneurs in the country are developing viable businesses and supply chains for such products.
"In our workshops in the African countries, we introduced the technologies and evaluated their feasibility. But seeing them in action is an even more powerful way to convince the participants to adopt these technologies in their countries," says UNCTAD project officer Kris Terauds.
The tour was organized from 14 to 18 January with India's Central Institute for Research on Cotton Technology – a government institute responsible for researching and commercializing post-harvest processing technologies.
Mr. Terauds says India was selected because of the similarities between cotton production there and in the four African nations – mainly hand-picked on small farms, for example.
"This means the technologies used in India are well-suited to the African context, making technology transfer more feasible," he says. "From an economic development perspective, that's extremely important."
500 briquetting plants
The Indian government's commitment to more than double the nation's capacity for biomass-fired power generation – form 4.4 GW in 2015 to 10 GW by 2022 – is fueling demand for alternatives to coal, which has been powering the emerging economy.
This growing interest for clean energy has given rise to more than 500 briquetting plants around the country, and tour participants had the opportunity to visit the entire value chain, from the farm to the factory to the end user.
Washington Mubvekerih from Zimbabwe's Cotton Research Institute says he was surprised by the simplicity of the technology used in Nagpur and was sure the equipment could be adapted to the conditions back home.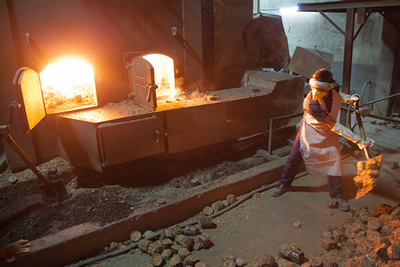 Adeva Machiso, also from Zimbabwe, agreed that the study tour was an eye-opener.
"The tour changed my mindset – not just on cotton by products. It opened my eyes to the untapped opportunities," says Ms. Machiso, who works with Zimbabwe's Farmers Union.
She says that cotton farmers in the landlocked Southern African nation have become discouraged over time as they've seen their profits dwindle.
"Bringing this kind of information to them on how they can earn more money from cotton will be received with gladness," Ms. Machiso says.
Residual ash
One business she and other participants visited was Pix Transmission in Nagpur, which makes rubber belts for industrial machinery. The company recently switched its boilers from fuel oil to biomass briquettes.
For Pix Transmission General Manager Shri Ninad Darvekar, the switch has made as much economic as environmental sense, given the frequent uptick in crude oil prices.
"There was uptrend in the price of furnace oil," he said. "And this has resulted in finding a cheaper, environmentally-friendly solution."
Mr. Darvekar says the switch entailed purchasing new equipment but that the company saw returns on the initial investment within 4 years.
And since biomass briquettes are organic, businesses can get rid of the residual ash quickly and cheaply.
"We can even give it back to farmers as fertilizer," Mr. Darvekar says.