13 March 2019
Written by: By Pamela Ugaz and Sijia SunArticle No. 34 [UNCTAD Transport and Trade Facilitation Newsletter N°81 - First Quarter 2019]
In seeking to reduce the cost, time and complexity of interregional and international trade in goods, the first "African Forum for National Trade Facilitation Committees (NTFCs): Empowering Public-Private Partnership for Trade Facilitation" was held at the United Nations Economic Commission for Africa (UNECA)'s Conference Center, Addis Ababa, Ethiopia from 27 to 29 November 2018.
The landmark event was organized by UNCTAD in an unprecedented partnership with seven other organizations: the Global Alliance for Trade Facilitation, the International Trade Centre, the UN Center for Trade Facilitation and Electronic Business, the UN Economic Commission for Africa, the World Bank Group, the World Customs Organization, and the World Trade Organization (WTO). More than 300 participants from the public sector, the business community, donors, and regional and international organizations attended the Forum. The aim was to offer a platform where African stakeholders from the public and private sector jointly boost their capacities towards the implementation of trade facilitation reforms, including the WTO Trade Facilitation Agreement (TFA), as well as the Africa Continental Free Trade Agreement (AfCFTA).
The participants' fruitful debate led to the following key take-aways:
1.  Trade facilitation reforms driven by African countries for African countries
In the opening session, UNCTAD Secretary-General Mukhisa Kituyi mentioned that the most secure frontier for African growth driven by trade is Africa itself. He additionally emphasized the need to address challenges of trade facilitation in Africa and the importance of intra-African trade. Delays in cargo clearance, high cost of doing business and unpredictability of the trade environment hinders traders' opportunities to participate in regional trade. Not surprisingly, the share of intra-African trade stands at 16% of its total exports, almost four times lower than intra-European trade, that stands at 60%. Experts urged African countries to take actions on trade facilitation reforms to boost intra-regional trade.
As to pan-regional initiatives, Ms. Shamika N. Sirimanne, the Director of the Division on Technology and Logistics of UNCTAD, acknowledged that AfCFTA was a clear paradigm shift for trade facilitation. Nevertheless, the implementation of AfCFTA requires a great deal of coordination among different public and private stakeholders at the national and regional levels. Likewise, inter-governmental committees would be necessary to monitor countries' progress in the implementation of measures under the AfCFTA.
Moreover, the launching of the AfCFTA has added more motivation and momentum to the NTFCs' role. In this context, NTFCs play an important role to achieve trade facilitation reforms enabling improvement of intra-regional trade. The conclusion was that NTFCs are crucial to ensure a coherent approach in the implementation of trade facilitation reforms resulting from commitments under the AfCFTA, WTO TFA and other regional agreements.
2.  NTFCs are key for the success of Trade Facilitation reforms
As all speakers highlighted, NTFCs are key for the success of trade facilitation reforms. Trade facilitation is complex as it spans across sectors and government ministries. Countries recognized the need for an effective coordinating mechanism at the national level – NTFCs – to ensure a holistic implementation of the WTO TFA in a structured and coordinated way.
Though many countries in the region, such as Zambia, have already established well-functioning NTFCs, others are still facing multiple challenges. A robust legal backing, a strong structure, an inclusive composition, and adequate financial resources have been essential for the sustainability of the committees. NTFCs should work beyond compliance with the WTO TFA. High-level political support and continued capacity building are essential for success.
The Forum also made a call for strengthening capacity building to mainstream gender in trade facilitation policies and the work of NTFCs. Women empowerment is a key driver for economic and social development and is at the heart of the 2030 Agenda for Sustainable Development. However, only 35% of members of NTFCs in Africa are women, and this status needs to improve.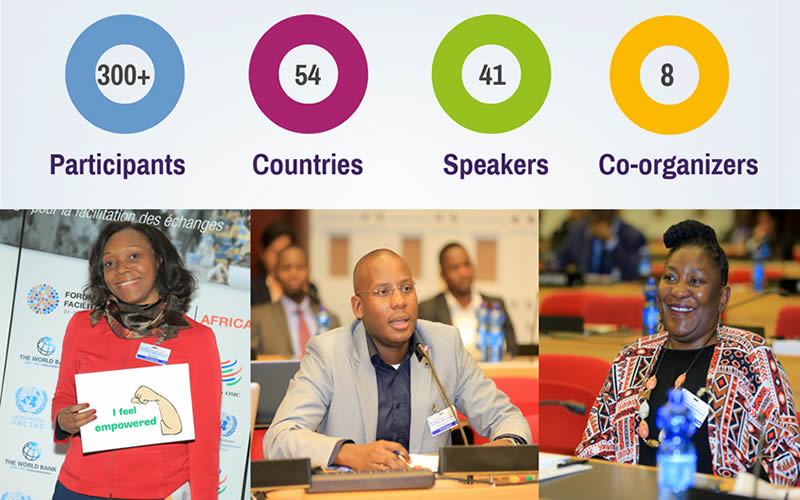 3.  African stakeholder networks can boost trade facilitation reforms
The Forum has offered an excellent platform for national stakeholders from 54 African Countries to meet their peers in other African countries: Policymakers, customs officers, and business representatives have driven the discussions on the best practices and lessons learned in the implementation of trade facilitation reforms and solutions for challenges. In addition to sessions, the Forum has also provided a variety of lively forms of communication, including the sharing of information on technical assistance and capacity building programmes offered by different development partners in a Trade-Fair style.
Moreover, national stakeholders also took the opportunity to meet and discuss with donors and development partners, which will undoubtedly promote further trade facilitation reforms.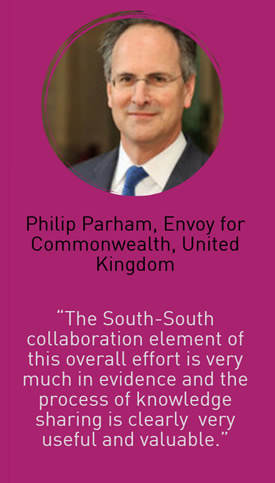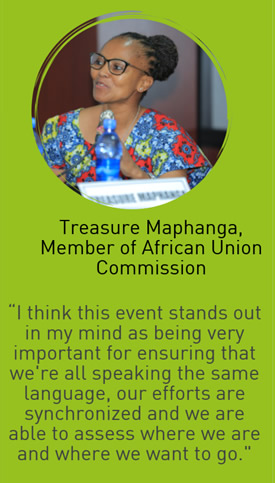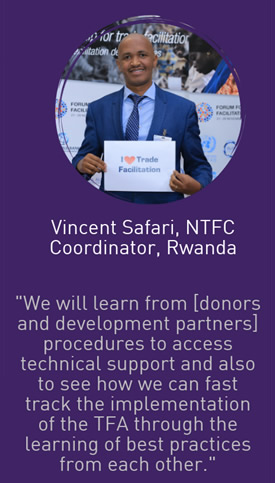 4.  Coordination and cooperation on trade facilitation are crucial for achieving regional integration
To achieve regional integration, the national inter-agency cooperation is a prerequisite. The TFA requests all national border authorities/agencies to cooperate with each other and coordinate border control and procedures to facilitate trade. Just as for setting up and running an NTFC, many TF solutions (e.g., Single Window) require cooperation among different agencies.
The key to regional integration is transit coordination and Customs cooperation. This is especially true in the context of the AfCFTA. New technologies such as Blockchain can be useful tools for the exchange of information. Mutual recognition of controls, inspections, standards conformity can generate savings for both traders and governments and help ensure security, safety, and protection of society. Also, the role of information and transparency could be added in trade facilitation reforms through the Trade Portals.
Customs are the drivers for many concrete solutions. These include Coordinated Border Management solutions and coordinated interventions which have proved to be very good solutions for TFA implementation.
Transit is a significant trade and transport facilitation instrument for the African continent, both for Landlocked developing countries and for transit countries as it is an important cost component in the competitiveness of countries. The issue of coordination of transit at national and regional levels is a key element in the implementation of transit procedures. This includes targeted approaches such as transit coordinators, transit corridors, cross border exchange of transit data and transit automation, etc.
5.  Private sector to take a more proactive position
The Forum calls for the private sector to rise to the challenge and be part of the solution. They can play the role of a technical expert, an end-user or a reform partner. The combination of the three roles will ensure that the private sector reaps maximum benefits from the implementation of the WTO TFA and of the relevant stipulations of the AfCFTA.
To unlock maximum benefit from trade facilitation reforms, there must be a mix of political will, trust building and capacity building emanating from both private sector and government. A great deal of coordination among different public and private stakeholders at the national and regional level are needed.
Moreover, it should be noted that the private sector includes different players, such as users and providers of services, large and small companies, importers and exporters, all with different interests.  At the national level, the private sector struggle to find a coherent message and communicate constructive criticism for trade facilitation reforms. To achieve this, it is good practice for the Chamber of Commerce to set up working teams to focus exclusively on cross-industry trade facilitation issues. The same mechanism should be held at regional levels to reduce costs.
The first African Forum for NTFCs called on constant improvements to simplify processes and procedures in the continent. Trade facilitation reforms can help African countries better integrate into the international trading system and achieve relevant targets under the 2030 Agenda for Sustainable Development. The NTFCs will have the responsibility to continuously monitor progress made in trade facilitation and promote the necessary solutions.
Presentations are available at:
https://unctad.org/en/conferences/NTFC-Forum-Africa/Pages/default.aspx
The complete report of the meeting is available at:
https://unctad.org/meeting/first-african-forum-national-trade-facilitation-committees
For more information contact: Pamela Ugaz (pamela.ugaz@un.org) or Sijia Sun (Sijia.sun@un.org )
Disclaimer
This site may contain advice, opinions and statements of various information providers. The United Nations does not represent or endorse the accuracy or reliability of any advice, opinion, statement or other information provided by any information provider, any User of this Site or any other person or entity. Reliance upon any such advice, opinion, statement, or other information shall also be at the User's own risk. Neither the United Nations nor its affiliates, nor any of their respective agents, employees, information providers or content providers, shall be liable to any User or anyone else for any inaccuracy, error, omission, interruption, deletion, defect, alteration of or use of any content herein, or for its timeliness or completeness, nor shall they be liable for any failure of performance, computer virus or communication line failure, regardless of cause, or for any damages resulting therefrom.