17 December 2014
A side event at the UNFCCC-COP20 Lima Climate Change Conference in December heard how commercializing goods derived from native biodiversity ("BioTrade") can be complemented by climate change mitigation and adaptation measures to unleash private sector engagement.
Working together, UNCTAD and CAF (Development Bank of Latin America) organized dialogue and knowledge brokering events at the twentieth meeting of the conference of parties to the United Nations Framework Convention on Climate Change (UNFCCC-COP20) in Lima to explore the opportunities that biodiversity and climate market incentives can provide for climate change action and sustainable development.
While climate change is a major driver of biodiversity loss it also reduces the ability of the ecosystem to mitigate and adapt to climate change itself through C02 absorption, participants heard.
Moreover, speakers underlined that climate change mitigation and adaptation policies are not only about energy. Land use and change is also an important driver for CO2 emissions and biodiversity loss.
Incentives to preserve biodiversity will therefore play a fundamental role in ensuring that land use is sustainable and reducing the potential for change toward unsustainable uses.
BioTrade and carbon offset trends and experience illustrate that market incentives can work for conservation and climate mitigation purposes.
With $4.2 billion in current global sales and 20 per cent annual growth, BioTrade has shown that it can play a successful role in the shift to green economics. Additionally, sales in carbon offsets have grown in secondary markets by more than 1,000 per cent over the last eight years.
Participants in Lima also heard that more and more consumers and investors want to see mechanisms that have a biodiversity and climate change mitigation component. They want fair prices, promotion of natural ingredients, equitable distribution of wealth, the development of local livelihoods and low carbon emissions value chains.
The impact of BioTrade services is also important.
Ecotourism can be a vehicle for the recovery of biodiversity rich forests, coastal zones and heritage sites. In Peru, for example, ecotourism has allowed the sustainable use of significant land surface.

Biodiversity and climate change friendly activities such as bird-watching and marine mammal tours can ensure conservation and enable the creation of local jobs.
Technical cooperation, provided by UNCTAD globally and by CAF in Latin America, as well as by such donors such as SECO and GIZ (the Swiss and German development agencies respectively), is consolidating a large BioTrade sector in several developing countries with climate mitigation and adaptation benefits.
In Peru alone, BioTrade has not only supported more than 20 companies and 120 cooperatives, but it has also provided benefits for over 3,000 producers.
Support in BioTrade has assisted local producers. With specific sourcing and benefit sharing agreements, exports have increased 70 per cent over the last six years, showing the consolidation of the assistance given.
Peru's government has now integrated BioTrade in its Strategic Biodiversity Plan 2014-2018.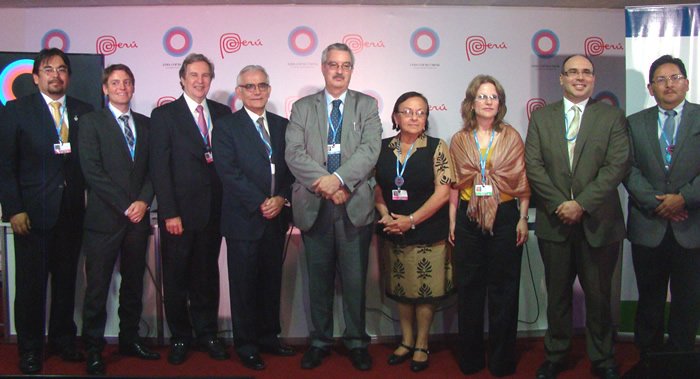 From left to right:
Luis Torres Paz, Director of Export Promotion, PROMPERU.
Martin Peter, Chief of Cooperation for Economic Development (SECO), Swiss Embassy to Peru
José Koechim, CEO, Inkaterra, Peru.
Luis Enrique Berizbeitia, Executive Vice President, Latin American Development Bank (CAF)
Maria Luisa del Rio, Adviser to Ministry of Environment of Peru
Ligia Castro, Environment and Climate Change Director, CAF
David Vivas Eugui, UNCTAD Representative to the UNFCCC COP 12
Mr. Braulio Dias, Executive Secretary of the Convention on Biological Diversity (CBD)
René Gomez-Garcia Palao, Senior Executive, Environment and Climate Change, CAF