18 September 2012
The 16th African Oil, Gas and Minerals Trade and Finance Conference and Exhibition (OILGASMINE) will be organized in 2013 by UNCTAD in cooperation with the Government of the Republic of Niger and in partnership with Cubic Globe Ltd.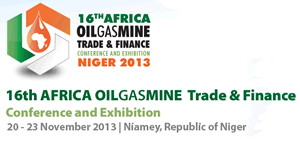 H.E. Mr. Foumakoye Gado, Minister of Energy and Petroleum, has confirmed the Government of Niger's offer to host the event in a letter to UNCTAD Secretary-General Supachai Panitchpakdi.
OILGASMINE is an annual forum that provides a platform for high-level policy dialogue between producers and consumers, investors and host countries and other stakeholders for sharing experiences and debating topical issues relating to the extractive industries, such as: investment and finance; legal and regulatory issues; revenue and resource management; energy security; technology; and local participation.
The 16th OILGASMINE Conference will focus on "Natural Resources Development: Governance in the Extractive Industries, Trade and Marketing Structures." A special parallel session will focus on "Women and extractive industries" in collaboration with the Tattali Iyali Foundation.
The Conference will also be following up the main themes and conclusions of the special event on Commodities entitled "Natural gas as an engine of growth", held during the UNCTAD XIII conference in April 2012 in Doha, Qatar.
The 16th OILGASMINE, scheduled for 20 to 23 November 2013 at the Palais des Congrès in Niamey, is expected to attract up to 500 participants, including key decision-makers, investors, executives of major and small oil companies, as well as mining companies.
Previous OILGASMINE conferences organized by UNCTAD on the African continent since 1996 were in the following locations: Zimbabwe (1996 and 1997), Ivory Coast (1998), Namibia (1999), Ghana (2000), Cameroon (2002), Angola (2003), Morocco (2004), Mozambique (2005), Algeria (2006), Kenya (2007), Equatorial Guinea (2008), Mali (2009), São Tomé and Príncipe (2010), Congo (2012).