12 March 2020
Written by Rory Cellan-Jones, BBC Technology Correspondent
As a technology correspondent it is rare these days for me to receive a press release from a company that does not claim that AI is now central to its activities. Closer examination often reveals that these claims are overblown. But a while back one particular email caught my eye. It was about a partnership between the Chinese tech giant TenCent and a London medical technology firm Medopad. They were working together to use artificial intelligence to diagnose Parkinson's  Disease.
This degenerative condition affects something like 10 million people worldwide, has a whole range of symptoms and is pretty difficult to diagnose and then monitor as it progresses. 
Medopad's work involves gathering lots of data from smartphones and wearable devices and allowing a machine learning system to spot patterns in it. I visited  its offices and found one of its staff being filmed as he rapidly opened and closed his fingers - stiffness in these kind of movements is one of the symptoms of Parkinson's.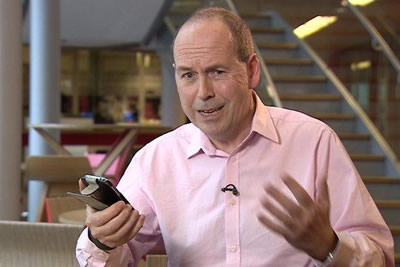 The idea was to develop an app that could monitor the progress of the condition - or perhaps even spot it before it was diagnosed. At the time of my visit, I was experiencing a few of the symptoms of Parkinson's Disease, including stiffness in my right hand.
A few months after my report on this project had been published I was diagnosed with this life-changing and incurable condition. I learned that Parkinson's is still quite a mysterious condition, and this has made me all the more interested in what the technology and pharmaceutical industries are doing to investigate the condition at a time when developments in artificial intelligence, coupled with the availability of smartphones open up new possibilities.
So a year after my first visit I returned to Medopad to see what progress had been made. By now the app was being trialed by a number of people with Parkinson's. Once a week their relatives or carers had to video them doing 17 different exercises, with the data then being uploaded to the cloud for the researchers to examine.
"We think this technology can help to quantify the disease," Dan Vahdat, Medopad's chief executive explained. "And if you can quantify the disease, it means you can see how the disease progresses. It gives you lots of opportunities in terms of treatment adjustments, interventions at the right time, potentially screening a larger cohort of patients with the technology in ways that were not possible before."
Late in the day, I was allowed to participate in the trial, so I am now being filmed each weekend by a relative going through these exercises. It is early days, but at some stage an app like this could make it easier for my doctors to be more clear about the progress of my Parkinson's, and so adjust my medication.
This is just one example of the way researchers are using AI in healthcare. I also have an eye condition so I have been interested in the collaboration between Google's DeepMind AI division and London's Moorfields Hospital. Their project involves using machine learning techniques to assist in examining eye scans to diagnose age-related macular degeneration, the commonest cause of blindness in the UK. The early results are promising.
Perhaps the biggest contribution AI could make is in drug discovery, where it is hoped that the length of time it takes to identify and test new drugs could be cut.
The science of AI has made rapid advances in recent years. Now the hope is that healthcare is the area where it could have the greatest real-world impact.
---
Science, technology and innovation can be catalysts for achieving the sustainable development goals.
In the context of the UN Commission on Science and Technology for Development, the CSTD Dialogue brings together leaders and experts to address this question and contribute to rigorous thinking on the opportunities and challenges of STI in several crucial areas including gender equality, food security and poverty reduction.
The conversation continues at the annual session of the Commission on Science and Technology for Development and as an online exchange by thought leaders.