21 March 2023
UNCTAD examines how to use new technologies to improve existing systems and get safe water and sanitation to all.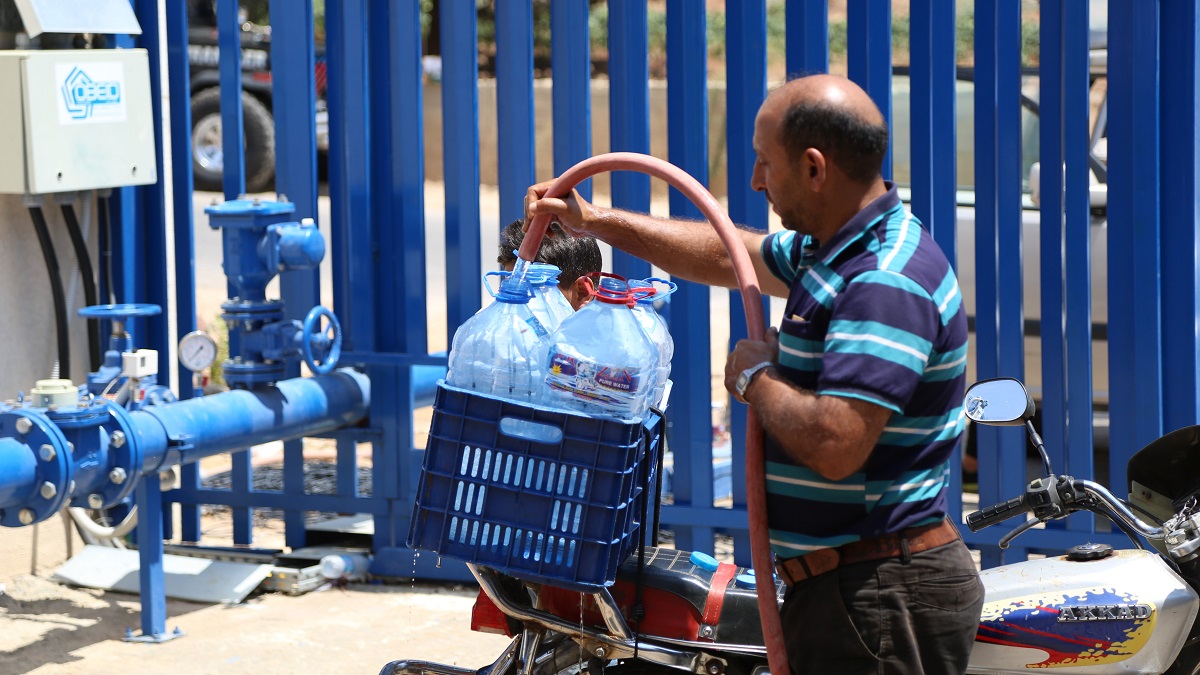 This year's World Water Day on 22 March focuses on accelerating change to solve the water and sanitation crisis.
About 2 billion people lack safe drinking water, according to UN-Water, and about 5.4 billion don't have access to safely managed sanitation services.
A recent UNCTAD report emphasizes the role of science, technology and innovation (STI) in tackling this crisis.
It says frontier technologies such as artificial intelligence, big data and Internet of Things help in monitoring water and sanitation infrastructure and accelerate progress towards UN Sustainable Development Goal (SDG) 6 on "clean water and sanitation for all".
To expand their use, the UN's Commission on Science and Technology for Development (CSTD) will examine how STI can help get safe water and sanitation to the billions of people without these essential services, during its twenty-sixth annual session from 27 to 31 March. UNCTAD provides substantive support to the CSTD.
"Access to safe water and sanitation is a challenge in developing countries," said Shamika N. Sirimanne, UNCTAD's director for technology and logistics and head of the CSTD Secretariat. "Climate change and increased pressure on water, food and energy resources are aggravating the situation."
She said the CSTD will continue serving as the focal point in the UN system for knowledge-sharing, consensus building and securing synergies between UN-wide initiatives to leverage STI for development, including for SDG 6.
New technologies hold great promise
Demand for freshwater is projected to exceed supply by 40% by 2030, putting at risk the achievement of SDG 6 and threatening all SDGs, including those on food security, poverty, gender equality and peace.
Tackling water scarcity due to excess demand and climate change will require a dramatic improvement in how we manage water resources.
"New technologies can be deployed in water infrastructure management," said Sucharit Koontanakulvong, a distinguished scholar in water resources management at Chulalangkorn University in Thailand.
Mr. Koontanakulvong, who will be part of a high-level panel on ensuring safe water and sanitation during the CSTD session, said such technology can boost efforts to combat climate change and achieve SDG 6.
For example, early warning systems that rely on drone technologies or deeply integrated earth observation systems can support disaster threat prediction and mitigation.
And solutions like smart metering, which provide real-time information and customized feedback, can increase the efficiency of existing water and sanitation systems.
Such technologies should be scaled up to accelerate progress towards SDG 6, agree other experts who will speak during the session.
"A combination of open digital tools, capacity-building and the use of international standards and frameworks is fundamental to scaling up efforts towards SDG 6," said Enrique Cabrera, a professor at the Polytechnic University of Valencia in Spain and the vice president of International Water Association.
He said water solutions must be adapted to local conditions, as one size will not fit all.
"Ad-hoc solutions will be needed for each local situation to determine the best use of the latest technologies and how to optimize the use of existing financial resources," Mr. Cabrera said.
Global partnerships critical
Global partnerships are crucial not only to support access to STI but also to enhance knowledge-sharing that fosters the scaling up of good practices domestically and internationally.
Doulaye Kone, deputy director of the water, sanitation and hygiene programme at the Bill and Melinda Gates Foundation, highlights the importance of cooperation among various stakeholders in fast-tracking progress towards SDG 6.
"Over the last decade, new players, inventors and innovators have joined the challenge of solving the sanitation crisis," said Mr. Kone, who will join the panel of experts at the CSTD session.
He said stakeholders from industry, academia and governments in China, India, Senegal and South Africa are pioneering transformative solutions to make sanitation services inclusive and safe for all, especially women and girls.
"By setting clear policies, performance standards for innovative technologies and sanitation service delivery," Mr. Kone said, "countries can drive the adoption of innovation and collaboration that is needed to accelerate progress towards SDG 6."