20 July 2023
The UN climate summit in December will give more attention to how trade can help accelerate the clean energy transition and cut global emissions.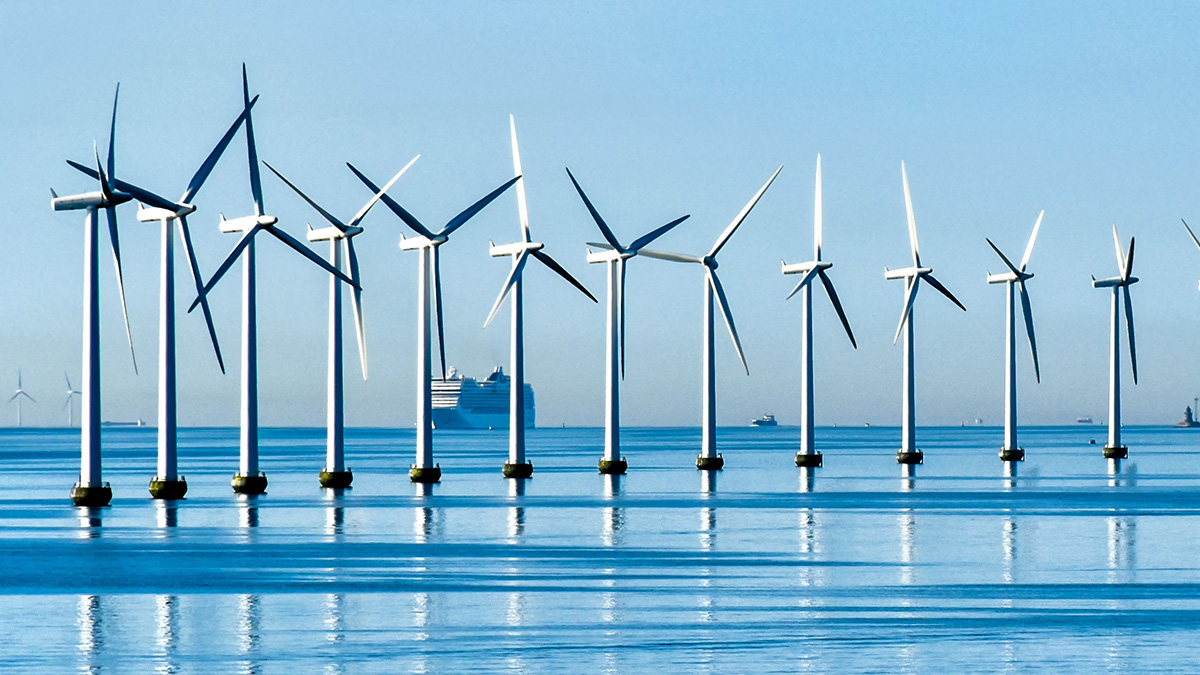 © Shutterstock balipadma | Offshore wind turbines on the coast of Copenhagen in Denmark
The Intergovernmental Panel on Climate Change (IPCC) – a body of the world's leading climate scientists – warns that limiting global warming to 1.5°C will require achieving net-zero CO2 emissions worldwide by 2050.
To achieve this, trade must play its part since the global production and distribution of goods and services contributes to roughly a quarter of all emissions.
The upcoming COP28 UN climate summit, slated for 30 November to 12 December in Dubai, will spotlight the role of trade in goods and services and trade policy can play in bolstering and accelerating the clean energy transition.
The conference, hosted by the United Arab Emirates (UAE), will dedicate an entire day to discussions on trade, the first of its kind within the context of a UN climate conference.
"Trade Day" at COP28 will highlight trade's potential as a catalyst for climate-smart development, focusing on issues like value-chain decarbonization and resilience.
UNCTAD is partnering with the UAE, the World Trade Organization (WTO) and other global organizations like the World Economic Forum and the International Chamber of Commerce to shape the day's discussions.
This alliance will help build a collective understanding of how a robust multilateral trading system can support climate goals in a way that benefits all countries.
"UNCTAD is pleased to contribute to shaping the first-ever Trade Day at COP28," UNCTAD Secretary-General Rebeca Grynspan said.
"We look forward to working together with the host country and our partners to show how trade can be a powerful tool for climate action and accelerate the just and clean energy transition around the globe."
The green power of trade
UNCTAD estimates show that trade in environmentally friendly goods – those designed to use fewer resources or cause less pollution – increased by about 4% in the second half of 2022, reaching a record $1.9 trillion.
Goods like electric vehicles, non-plastic packaging (+20%), and wind turbines (+10%) saw especially high growth.
Trade can provide more countries with access to environmentally preferable goods and services, as well as facilitate the transfer of technologies and know-how, which are critical to boosting innovation and building capabilities to support mitigation and adaptation efforts in all countries.
For instance, trade policy could support developing countries by promoting the spread of emerging renewable energy systems and technologies. This was reaffirmed at the recently held 10th session of UNCTAD's multi-year expert meeting on trade, services and development, which underscored the need to ensure sustained access to and supply of quality services as a pre-condition for the success of energy transition projects in both developed and developing countries.
Trade measures including tariffs, market-based mechanisms, subsidies and relevant regulations can also speed up the energy transition, create markets for carbon-efficient products and help phase out unsustainable economic activities.
However, they can also have negative spillover effects for trade partners if not carefully designed, particularly affecting developing countries that have less capacity to respond to the changes.
UNCTAD recently mapped over 1,000 climate change-related non-tariff measures introduced by around 100 countries.
"We must ensure that trade policies advance countries' abilities to achieve their nationally determined contributions to the Paris Agreement without hindering others from achieving theirs," said Chantal Line Carpentier, head of UNCTAD's trade, environment, climate change and sustainable development branch.
"UNCTAD is committed to contributing to a Trade Day that strikes the right balance and ensures support measures for countries with less capacity."