05 September 2012
UNCTAD and the World Federation of Exchanges (WFE) met at WFE headquarters in Paris, France, yesterday to discuss expanded cooperation in the promotion of investment for sustainable development.
Mr. James Zhan, Director of the Division on Investment and Enterprise met with Mr. Hüseyin Erkan, Secretary General of the WFE to follow up on UNCTAD's work in the area of responsible investment, and discuss the role of stock exchanges in promoting responsible investment and providing much needed development finance for emerging market economies. In the wake of the financial crisis, the advantages of transparent, rules based capital markets versus off-market trading and 'dark pools' has been made clear.
The WFE has been cooperating with UNCTAD on the Sustainable Stock Exchanges project, a joint initiative coordinated by UNCTAD, the UN Global Compact, the Principles for Responsible Investment, and the UNEP Finance Initiative. At the Rio+20 meeting in June of this year, leading stock exchanges with over 4,600 listed companies in developed and emerging markets, voluntarily committed to promoting improved environmental, social and governance (ESG) practices. The WFE is also actively involved in promoting improved ESG practices, as part of a broader effort to address important issues of systemic risk.
UNCTAD and WFE discussed collaboration in the area of sustainable stock exchanges, including a joint publication on the present and future role of stock exchanges in development finance, and the formation of a working group to explore the ways and means of effectively promoting ESG issues via multi-stakeholder dialogue with stock exchanges, institutional investors and capital market regulators.
"Stock exchanges can be instrumental for promoting investment for sustainable development," said Mr. Zhan. "Exchanges are an important element of the overall investment landscape, and as such, we look forward to deepening our cooperation with the WFE on a range of sustainability issues."
The UNCTAD Investment Division's work with stock exchanges complements its other activities within the overall framework of investment for development, including its recently launched Investment Policy Framework for Sustainable Development.
For more than fifty years, the WFE has represented leading regulated exchanges around the world, including the exchanges of both developed and developing countries.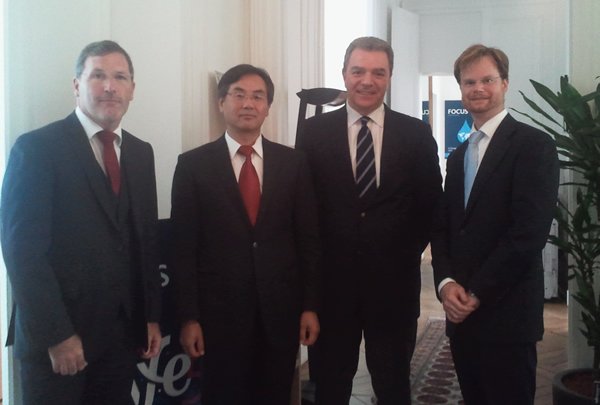 From left: Peter Clifford (Deputy Secretary General, WFE); James Zhan (Director, DIAE, UNCTAD)
Hüseyin Erkan (Secretary General, WFE); Anthony Miller (Economic Affairs Officer, DIAE, UNCTAD)