29 April 2022
The partnership will help improve women digital entrepreneurs' skills and ease their access to global trade.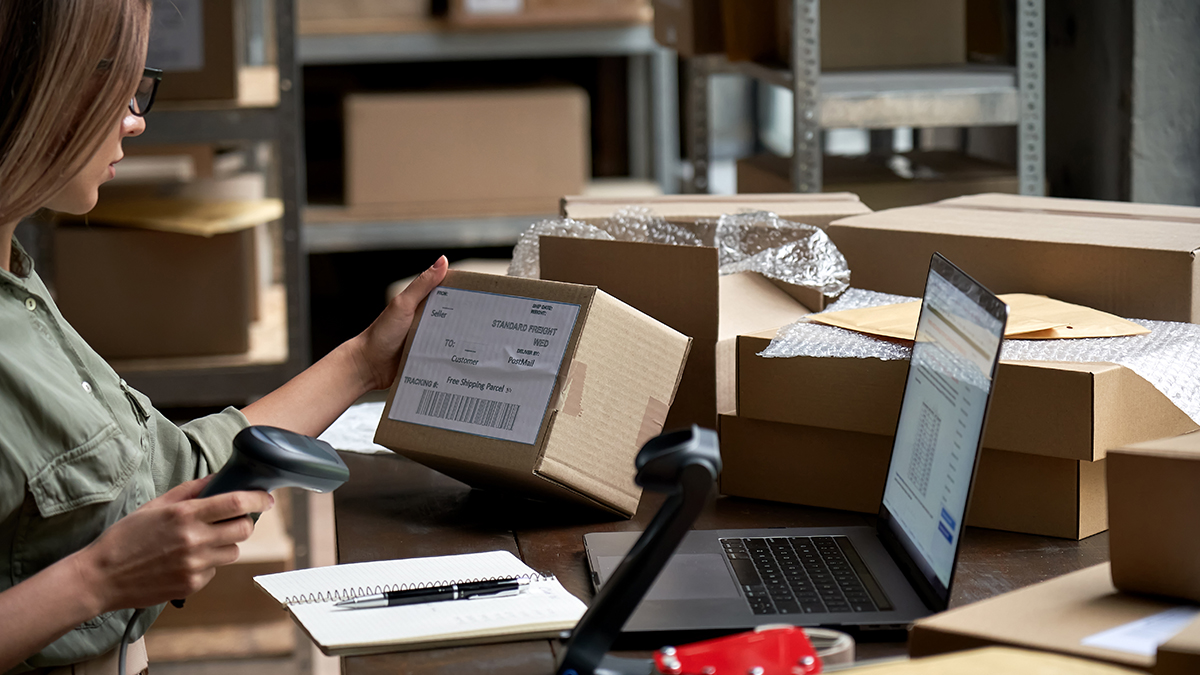 © 2020 insta_photos/Shutterstock | Warehouse worker scans barcode on e-commerce shipping box.
UNCTAD's eTrade for Women initiative has joined forces with Deutsche Post DHL Group, a leading player in international logistics, to help women overcome some of the barriers to global digital trade.
According to a recent UNCTAD study, inadequate access to reliable and affordable trade logistics is among the top challenges many e-commerce businesses face in developing countries.
Such obstacles often affect more women business owners than their male counterparts as they also tend to have less access to knowledge, funding and support.
"This collaboration with DHL enables us to continue the public-private dialogue and build more inclusive digital economies," said Shamika N. Sirimanne, who leads UNCTAD's technology and logistics division.
"Women have a key role to play in e-commerce, hence enhancing their participation will have a huge development impact," Ms. Sirimanne added.
The partnership came ahead of UNCTAD's eCommerce Week 2022, a global forum to discuss the challenges and opportunities associated with e-commerce and the digital economy.
Targeted support to women in the developing world
As a pilot activity, two small business owners who are members of eTrade for Women communities entered the highly selective DHL GoTrade GBSN Fellowship Program on 5 April.
They are Sofia Chandi, who runs a floral business in Ecuador and Edith Tialeu, who sells African home decor items and accessories across Africa and Europe from Cameroon.
The 12-month programme will provide Ms. Chandi and Ms. Tialeu with training, mentoring as well as new business skills to improve the overall management of their businesses, including by offering them logistical support to reach new markets.
"This is a wonderful opportunity to connect people and improve lives," said Steven Pope, head of GoTrade, Deutsche Post DHL Group.
"The partnership with UNCTAD will increase our impact by enabling women-owned businesses to get better access to the global marketplace and become agents of change for their communities."
Joint efforts between eTrade for Women and Deutsche Post DHL Group are expected to expand the fellowship scheme to benefit more women digital entrepreneurs in developing countries in the coming years.
The eTrade for Women initiative is funded by the Netherlands and Sweden.