02 March 2012
At the first World Marketing Summit held in Dhaka, Bangladesh on 1 March 2012, UNCTAD Secretary-General Supachai Panitchpakdi called for inclusive growth strategies and "development-led marketing". He also underlined the need for building moral and social values in marketing. ​ 
Dr. Supachai also stressed the need for free flow of critical market information between countries and ensuring a more remunerative marketing of agri-products of poor countries. "Helping poor countries to realise more revenue for their products will reduce pressure on the forests of these countries," he said.
Inaugurating the conference,
Bangladesh Prime Minister Sheikh Hasina
was optimistic that the six incubation projects taken up by the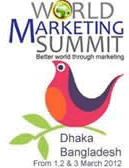 summit in the areas of food security and optimum consumption (Australia); appropriate education for enhanced livelihood options (Bangladesh and China); access to health (Bangladesh and India); waste reduction and waste management (UK and Brazil); and future of marketing, will invite global interest and thought in solving some of the basic issues faced by emerging economies.
 
Secretary-General Supachai also held bilateral talks with Bangladesh Foreign Minister Dr. Dipu Moni who requested UNCTAD to give greater focus to issues of special interest for least developed countries such as market access, productive capacity, infrastructure, employment generation and technology transfer.
Sheikh Hasina will be delivering an address at the opening ceremonies of UNCTAD XIII in Doha on 21 April and participate in the World Investment Forum and special Women in Development event.
​