28 August 2023
COP28's second preparatory Global Dialogue and Investment-Focused Event will be held together with the forum, taking place in Abu Dhabi in October.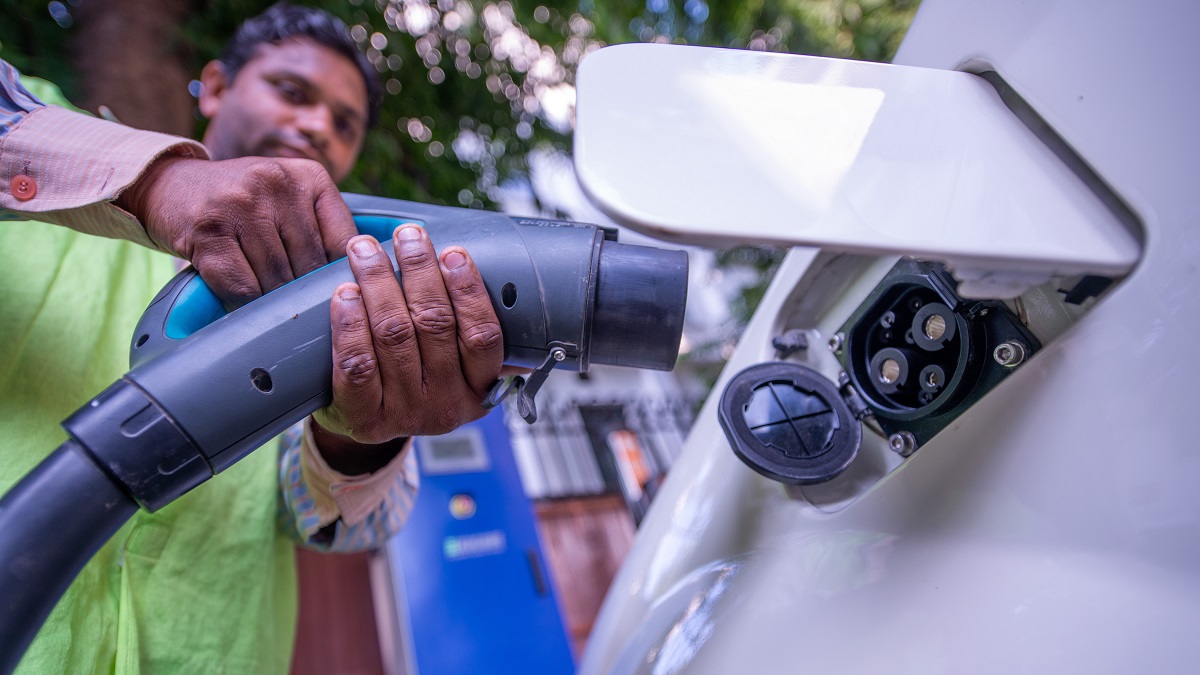 © Shutterstock/ PradeepGaurs | A drive charges his electric car in New Delhi, India.
UNCTAD's eighth World Investment Forum is partnering with the COP28 UN climate summit and other key entities to advance dialogue on climate finance and investment.
COP28's second preparatory global dialogue and investment-focused event will be held in conjunction with the forum, taking place in Abu Dhabi from 16 to 20 October 2023.
The dialogue and event will be organized by the COP28 incoming presidency, the United Nations Framework Convention on Climate Change (UNFCCC), and the International Renewable Energy Agency (IRENA), in partnership with UNCTAD and Abu Dhabi Global Markets (ADGM).
The global dialogues and investment-focused events were agreed by the Parties at COP27, with the first global dialogue being held in Bonn in June. The overall outcome of deliberations will feed directly into COP28 negotiations.
The global dialogue, to be held on 15 and 16 October in closed sessions at ADGM, will address the theme of accelerating a just energy transition in transport systems. Discussions will focus on identifying challenges, barriers and roadblocks in the transition, on developing actionable solutions and innovations for policies, institutional arrangements, finance and technologies, and on exploring opportunities to direct finance flows towards the implementation of mitigation projects on the ground.
Subtopics will include deploying collective and non-motorized modes of transport, such as public transit systems and cycling, energy and resource improvements, the electrification of vehicles, and shifting to low or zero-carbon fuels, like green hydrogen and biofuels.
The investment-focused event, taking place on 17 October, will explore unlocking finance for mitigation projects on the ground, overcoming barriers to access to finance, and identifying investment opportunities and actionable solutions informed by nationally determined contributions (NDCs) for public and private financiers, investors and international climate finance providers.
Over 6,000 investment stakeholders from 160 countries
Delegates participating in COP28 negotiations will have access to major events featured in the forum's comprehensive schedule, which includes leadership summits, ministerial meetings and an extensive array of approximately 150 discussions covering key issues from sustainable energy strategies and robust infrastructure to carbon markets and intelligent investment methods. Funding will be provided for selected delegates from developing countries.
The UNCTAD World Investment Forum is the pre-eminent global platform for investment and development, bringing together over 6,000 investment stakeholders from 160 countries, including high-level participants from the global investment community, heads of state and government, ministers, lawmakers, business executives, sovereign wealth fund managers, investment treaty negotiators, heads of investment promotion agencies, international investment location experts, heads of international organizations, civil society representatives, eminent scholars and global media.
Register now to attend the 8th World Investment Forum 2023: Investing in Sustainable Development.
Delegates for the global dialogue and investment-focused events can register here.