20 January 2017
The World Economic Forum Annual Meeting in Davos remains the foremost creative force for engaging the world's top leaders in collaborative activities to shape the global, regional and industry agendas at the beginning of each year.
Very strong dialogue and partnership between governments, international organizations and the private sector is the only way to allow such advances to bring fantastic increase in the well-being of people for the success of 2030 Agenda for Sustainable Development (SDG).
During his address at the WEF, UN Secretary-General António Guterres began by presenting some of the challenges the global community is facing regarding its inability to prevent and solve crises.
He also underlined the importance of achieving the SDGs, noting that conditions for an inclusive and sustainable development are a main method of preventing crises and conflicts.
"Without the private sector we will not have the necessary innovation, we will not have the necessary capacity to discover new markets, new products, new services and to be able to develop new areas in the economy," Mr. Guterres said, adding also that only the private sector can create enough jobs to stabilize societies.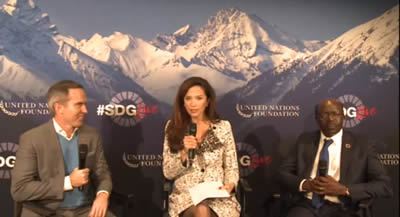 UNCTAD Secretary-General Mukhisa Kituyi discusses trade and globalization on the sidelines of the World Economic Forum in Davos
He said that a calculation that was recently made shows that the returns on investments that can be generated by the full implementation of the SDGs would mean something in the order of magnitude of $30 billion per year. As such, partnerships with the business sector are attractive for both sides, generating investment for the private sector but allowing the private sector "to play an absolutely essential role in making sure that those goals are effectively achieved."
A new platform of partnerships would not only aid the current goals, but address the challenges of the future, Mr. Guterres, said referring to a so-called "fourth industrial revolution" that includes, for example, genetic engineering and artificial intelligence.
At Davos, the UN SG spoke in favor of trade and globalization calling his audience to work towards improving trade and making it available for all.
In attendance was also UNCTAD Secretary General Mukhisa Kituyi who also called the world leaders to work towards an inclusive sustainable model of trade.
"Unsustainable model of trade that leaves too many people behind is not a sustainable model of inclusive prosperity," said Dr. Kituyi stressing the need for a narrative that reassures others especially those who have lost hope.