24 July 2014
​According to preliminary estimates by UNCTAD and WTO, in the first quarter of 2014, world exports of services rose by 7%, as compared with the same quarter of the year before (balance-of-payments basis, current prices).
​The growth was led by European countries (11%), followed by Asia and Oceania (7%). North America recorded somewhat more sluggish services trade increase (2%) in the same period. 
Commercial services exports by region, quarterly, Q1 2013 - Q1 2014
(percentage change, year-on-year)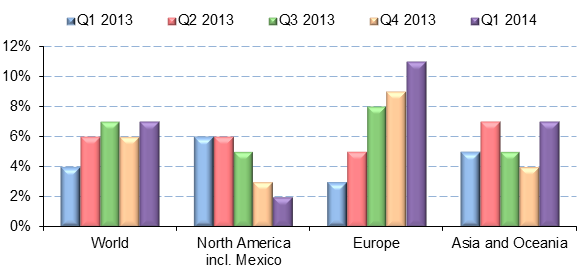 Sources: UNCTAD and WTO
Detailed statistics available at the links below:
Quarterly figures are released every three months (next release: October 2014).