Investment flows to developed economies slumped by 58% in 2020
Investment flows to developed economies slumped by 58% in 2020

Press Release
For use of information media - Not an official record
UNCTAD/PRESS/PR/2021/018
Investment flows to developed economies slumped by 58% in 2020
Prospects are positive, with modest growth expected in 2021.
Geneva, Switzerland, 21 June 2021
Foreign direct investment (FDI) flows to developed economies fell by 58% to $312 billion in 2020, a level last seen in 2003, according to UNCTAD's World Investment Report 2021.
The decline was inflated by strong fluctuations in intrafirm financial flows, and by corporate reconfigurations. Among the components of FDI flows, new equity investments were curtailed, as reflected in the decline of cross-border merges and acquisitions (M&As).
In 2020, the value of net cross-border M&A sales in developed economies, by far the largest form of FDI inflows to the group, fell by 11% to $379 billion. The value of greenfield projects announced in these economies, to be invested over several years, declined by 16% to $289 billion.
Positive prospects
In contrast, international project finance deals continued to target developed economies despite the COVID-19 pandemic. The number of announced deals rose by 8%, although their aggregate value dropped by 28% (to $175 billion)
"Prospects are fairly positive, with growth of up to 20% expected, mainly due to strong cross-border M&As activity, improved macroeconomic conditions, a wide vaccination programme and large-scale public investment support," said James Zhan, director of UNCTAD's investment and enterprise division.
Europe
FDI flows to Europe dropped by 80% to $73 billion, largely because of negative FDI in countries with significant conduit flows, such as the Netherlands and Switzerland.  
Flows to the Netherlands fell to -$115 billion due to liquidations of several large holding companies, corporate reconfigurations and intrafirm financial flows.
Flows to Switzerland remained negative (at -$47 billion) for the third consecutive year. Although the country has built a solid industrial base, the recent negative values reflect mainly the conduit nature of a significant part of the country's annual flows.
Flows dropped in large European economies such as the United Kingdom (-57%), France (-47%) and Germany (-34%). FDI to the United Kingdom more than halved to $20 billion, mainly due to some divestments (for example, Swiss Re sold its ReAssure Group to Phoenix Group Holding for $4.2 billion).
In France, FDI declined in part because of lower M&A sales, which fell from $18 billion to $5.1 billion. FDI flows fell also in Germany, by 34% to $36 billion, despite higher cross-border M&As. Foreign affiliates in Germany extended new loans or paid pack previous loans to their parents abroad, reducing intracompany loans by $55 billion.
North America
FDI flows to North America declined by 42% to $180 billion.
Inflows to the United States decreased by 40% to $156 billion. Investments from European multinational enterprises (MNEs) in the United States fell by 15%, and those from Asia by 53%. The reduction in corporate profits had a direct impact on reinvested earnings, which fell to $71 billion – a 44% decrease from 2019.
Cross-border M&A sales of United States assets to foreign investors fell for the fourth consecutive year (by 36%, to $100 billion), mostly in the primary sector (from $18 billion to -$2.5 billion) and manufacturing (-39%).
FDI to Canada halved to $24 billion in 2020. Flows plummeted in mining and quarrying and fell by 70% in manufacturing. MNEs from the United States – the major investors in the country – halved their investment.
Outflows
FDI outflows from developed economies receded by 56% to $347 billion – the lowest since 1996.
Investment by European MNEs fell by 64% to $119 billion. While outward FDI declined in most European countries, the trend was distorted by a few conduit economies where outflows experienced strong volatility. Netherlands, Germany, Ireland and the United Kingdom saw their outflows decline.
Outflows from the United States remained flat at $93 billion. The outward flows of United States MNEs increased significantly in Europe but declined in Asia, mainly due to reduced investment in Singapore.
Outflows from Japan fell by 49% from the 2019 record but remained high at $116 billion.
Prospects fairly upbeat
This year, FDI flows to developed economies are likely to rebound from the anomalously low levels in 2020. Economic prospects have improved following the extension of massive fiscal support and the roll-out of vaccines over the course of 2021.
FDI is projected to increase by 15% to 20% in Europe following the collapse in 2020. FDI in North America is also projected to increase by about 15%. Fiscal stimulus measures and growing consumer demand are expected to revive the domestic economy in the United States.
Figure 1 - Developed economies: Top 10 recipients of FDI flows, 2019 and 2020
(Billions of dollars)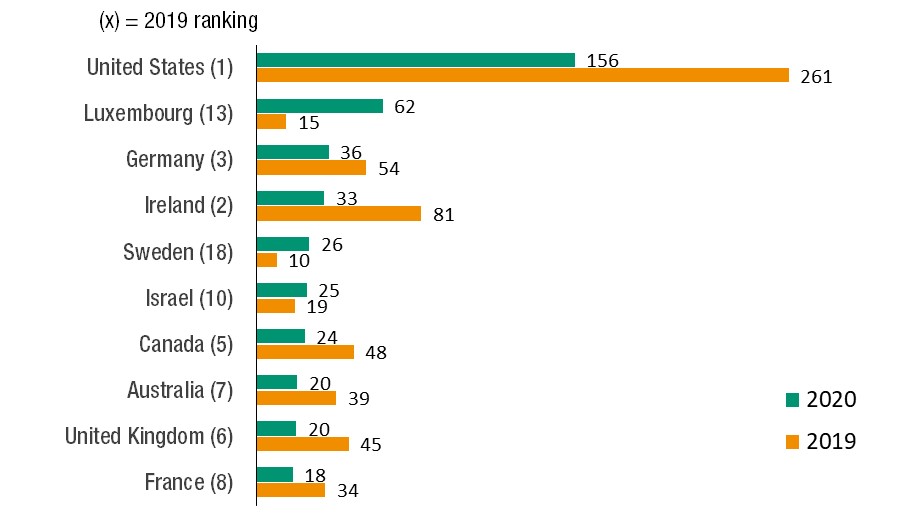 Source: UNCTAD, World Investment Report 2021.
Figure 2 - Developed economies: Top 10 investors of FDI flows, 2019 and 2020
(Billions of dollars)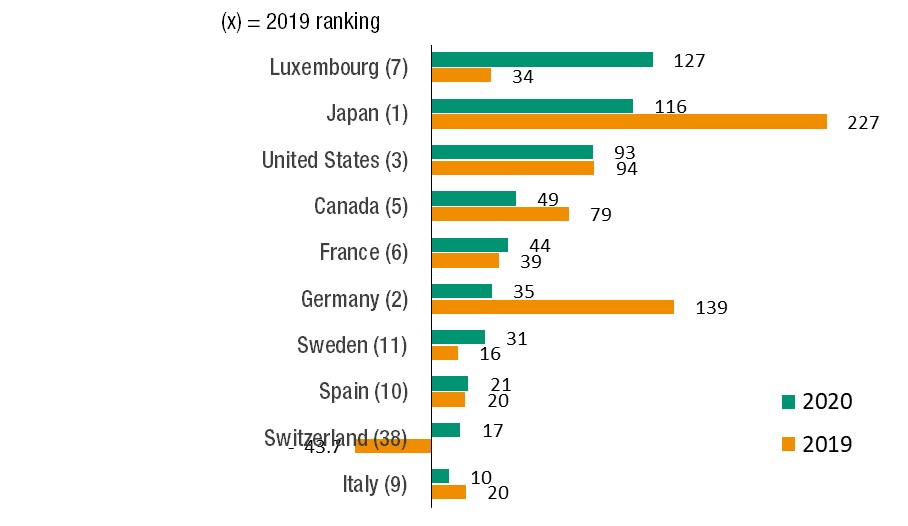 Source: UNCTAD, World Investment Report 2021.
---