Investment Flows to Transition Economies Continued to Slide in 2018, Says UN Report
Investment Flows to Transition Economies Continued to Slide in 2018, Says UN Report

Press Release
For use of information media - Not an official record
UNCTAD/PRESS/PR/2019/019
Investment Flows to Transition Economies Continued to Slide in 2018, Says UN Report
Transition economies lean heavily on special economic zones for investment
Geneva, Switzerland, 12 June 2019
Foreign direct investment (FDI) flows to the transition economies of south-east Europe, the Commonwealth of Independent States (CIS) and Georgia fell by 28% to US$34 billion in 2018, according to UNCTAD's World Investment Report 2019.
"FDI inflows in the transition economies are expected to stabilize in 2019. Macroeconomic and policy developments may lay the basis for a modest and partial recovery," said UNCTAD's director of investment and enterprise, James Zhan.
Flows to the CIS and Georgia contracted by 36% to $27 billion.
In the Russian Federation, by far the region's biggest economy and largest recipient, flows halved to $13 billion (figure 1) as investors faltered on geopolitical concerns and sluggish GDP growth.
Investment in share capital showed an unprecedented negative value (-$6 billion), as a result of divestment (sales of foreign affiliates to Russian investors) and the re-domiciling of Russian multinational enterprises (MNEs), which is registered as negative FDI inflows.
Some of the other larger recipients in the subregion – Azerbaijan (-51%, to $1.4 billion), Kazakhstan (-18%, to $3.8 billion) and Ukraine (-9%, to $2.4 billion) – also experienced declines.
South-east Europe bucked the trend, with FDI growing by 34% to $7.4 billion.
Serbia became the second largest recipient of FDI among transition economies as flows grew by 44% to $4.1 billion, driven by a surge of investment in share capital.
Flows to North Macedonia more than tripled, mostly on investment in automotive production in its technological industrial development zones.
Source countries
The profile of the largest source countries of FDI in transition economies has changed markedly in recent years (figure 2).
The Netherlands and Cyprus remained important conduits for investment from third countries, as well as for capital from the Russian Federation.
Among other major source countries, FDI stock held by France and China rose sharply (to $30 billion and $27 billion, respectively).
Chinese MNEs are investing across the region, whereas the surge of French FDI is concentrated mostly in large natural-resource projects in Kazakhstan.
Inflows expected to stabilize in 2019
Greenfield project announcements, an indicator of investor intentions, grew by 48% to $51 billion with practically all countries seeing a rise.
They more than doubled (to $11 billion) in south-east Europe and rose by 35% (to $40 billion) in the CIS and Georgia. 
Announcements in the Russian Federation were patchier – rising by only 8%, to $18 billion. The mixed picture points to a chequered outlook for FDI in the region in 2019.
FDI outflows from transition economies were steady at $38 billion, making the region a net FDI capital exporter in 2018.
The Russian Federation accounted for 95%, with outflows of $36 billion – a level three times more than that of inflows.
Most Russian outward FDI is carried out by only a handful of large MNEs, and mostly in natural resources value chains.
Important role of special economic zones
The promotion of special economic zones (SEZs) has become an important investment policy tool for transition economies.
SEZs may also become a major driver of future FDI growth.
The Russian Federation hosts more than half of the 237 zones in the region (figure 3). The country has a complex network of different types of zones.
Smaller economies undertaking significant export processing activities, such as North Macedonia and Serbia, also host many SEZs.
The characteristics of zones vary across countries and sectors.
Export-oriented zones tend to attract mostly foreign firms, whereas zones geared towards regional development, such as those in the Russian Federation, host mostly domestic firms.
Most SEZs are geared for manufacturing, although in the Russian Federation, technology-oriented zones have become prominent.
Ownership is sometimes private, but the larger zones are usually publicly owned. At least 18 new zones are under construction in the region, notably in the Russian Federation, Serbia and Turkmenistan.
Figure 1 - Transition economies: Top 5 recipients of FDI inflows, 2017 and 2018 (Billions of dollars)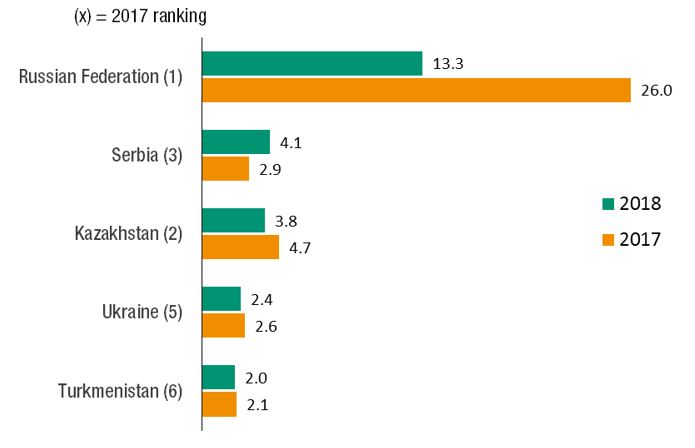 Source: UNCTAD, World Investment Report 2019.
Figure 2 - Top 10 investor economies in transition economies, 2013 and 2017 (Billions of dollars)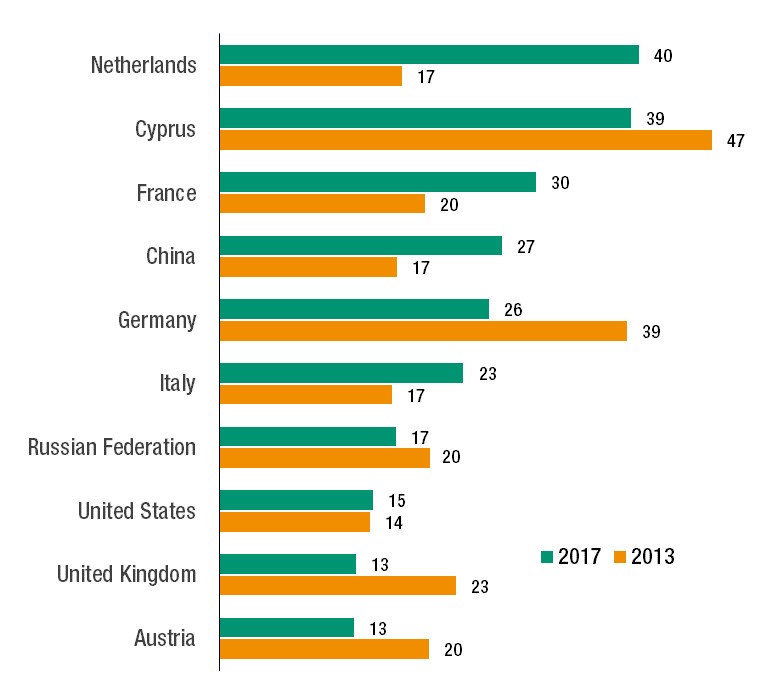 Source: UNCTAD, World Investment Report 2019.
Figure 3 - Transition economies with the most special economic zones, 2019 (Number of zones)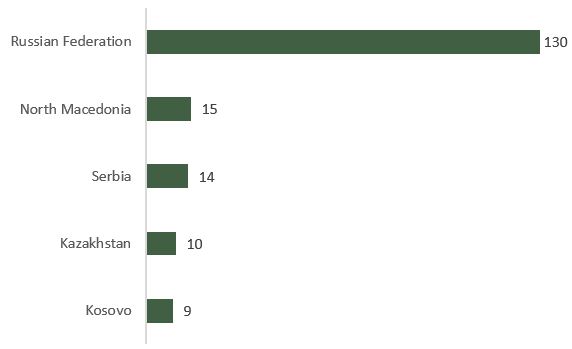 Source: UNCTAD, World Investment Report 2019.

---