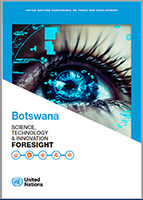 UNCTAD conducted a Science, Technology and Innovation (STI) Policy Review of the Republic of Botswana during 2021-22. As part of the STI Policy Review, a foresight exercise was undertaken to initiate a process of identifying future national priorities for STI in Botswana and discussing the future role of STI in development in Botswana with stakeholders in the country.
Foresight includes innovative strategic planning, policy formulation, and solution design methods that do not intend to predict or forecast the future, but rather consider alternative scenarios.
This report documents the foresight exercise including its purpose, methodology, activities, and findings.
The seven STI priority domains that emerged from the foresight exercise for Botswana include agriculture, digital economy, energy, environmental sustainability, health, manufacturing and social development.
(UNCTAD/DTL/TIKD/2023/1)
-
31 Oct 2023