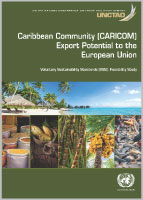 Voluntary sustainability standards: Feasibility study
The report investigates the potentiality of voluntary sustainability standards (VSS) to enhance the Caribbean Community's (CARICOM) aquaculture and agriculture exports to the European Union, the group's second biggest export market.
The United Nations Forum on Sustainability Standards (UNFSS) describes VSS as ''specifying requirements that producers, traders, manufacturers, retailers or service providers may be asked to meet, relating to a wide range of sustainability metrics, including respect for basic human rights, worker health and safety, the environmental impacts of production, community relations, land use planning and others''.
VSS are expected to enhance developing countries' export potential while contributing to sustainable development by safeguarding public health and safety and protecting the environment.
The study, conducted in close partnership with the CARICOM Regional Organization for Standards and Quality, provides a set of recommendations to pave a pathway for the region to capture the potential trade benefits associated with VSS.
The products covered include herbs and spices, cocoa, sugarcane, coconut, and aquaculture products. From a trade and rural development perspective, these sectors are of great importance to CARICOM members.