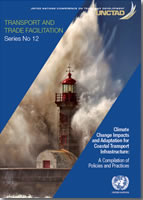 Transport and Trade Facilitation Series, No 12
Ports are critical infrastructure assets that serve as catalysts of economic growth and development and are key-nodes in the network of closely interconnected global supply-chains.
At the same time, ports and other coastal transport infrastructure are exposed to the risk of climate change impacts, particularly in view of their location in coastal zones, low-lying areas and deltas.
Given the strategic role of ports and of other key coastal transport infrastructure as part of the global trading system, and the potential for climate-related delays and disruptions across global supply chains, enhancing their climate resilience is a matter of strategic economic importance.
In view of the long service life of transport infrastructure, and the potentially major consequences of inaction, effective adaptation and resilience building requires re-thinking of established approaches and practices early.
A good understanding of risks and vulnerabilities is required for the development of well-designed adaptation measures that minimize the adverse effects of climatic factors.
For the purposes of risk-assessment and with a view to developing effective adaptation measures, dissemination of more tailored data and information is important, as are targeted case studies and effective multi-disciplinary and multistakeholder collaboration at all levels.
Legal and regulatory approaches, as well as policies and plans are going to be key to efforts at facilitating effective risk and vulnerability assessments and providing a supportive framework for adaptation action at all levels.
Guidance, standards, best practices, methodologies and other tools in support of adaptation are urgently required, and targeted capacity building is going to be critical, especially for the most vulnerable countries.
Against this background, the present compilation presents examples of legal, regulatory and policy approaches, as well as of reports, studies and guidance to support climate risk, vulnerability and impact assessment, and the development of effective adaptation response measures.
By way of context, the document also provides a brief overview of climate change impacts on coastal transportation, and of recent trends and projections regarding some key climate drivers of relevance to coastal zones, as well as of approaches to risk-assessment and adaptation.
The included material has been selected and presented with a view to informing, guiding and inspiring policy makers, national authorities, transport infrastructure planners and managers, and other interested stakeholders in their efforts to advance climate change adaptation for coastal transport infrastructure and increase levels of preparedness.