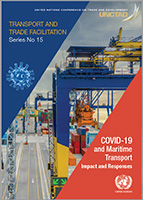 Transport and Trade Facilitation Series No. 15
Maritime transport underpins global supply chain linkages and economic interdependency with shipping and ports estimated to handle over 80% of global merchandise trade by volume and more than 70% by value. As a result, when disruptive factors such as pandemics occur, the sector works as a transmission channel that sends shockwaves across supply chains and regions.
Strengthening the capacity of countries to anticipate and recover from disruptions affecting their maritime supply chain is crucial. This requires a good understanding of how the COVID-19 affected the sector, including the challenges faced and the solutions that had been adopted. Therefore, and building on its broad mandate in the field of transport and trade facilitation, UNCTAD carried out a preliminary assessment of the immediate impacts of the COVID-19 disruption on the maritime supply chain and trade over the first half of 2020.
The assessment was articulated around the following issues:
Impacts of the COVID-19 on the maritime supply chain and challenges faced.

Response measures introduced by relevant stakeholders.

Lessons learned and implications for the maritime supply chain of the future.
Against this background, chapters 1 and 2 of the present report describe the immediate impacts of the pandemic on maritime trade flows, ship calls, and liner shipping connectivity in the first half of 2020. Chapter 3 highlights relevant responses and adjustments made at the port level as well as by other stakeholders across the maritime supply chain to cope with the disruption and maintain business continuity, while at the same time, protecting workers and ensuring timely delivery of essential goods during the crisis.
---
This report is an output produced under phase one of the maritime supply chain component of the United Nations Development Account (UNDA) project "Transport and trade connectivity in the age of pandemics: Contactless, seamless and collaborative UN solutions".