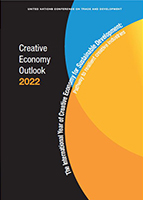 The creative economy is one of the world's fastest-growing sectors. Creative industries create employment and income, promote innovation and contribute to societies' well-being. Yet more data and innovative and multidisciplinary policy responses are needed to enhance the development impacts of the creative sector. This is essential, as the creative economy provides all countries, particularly developing economies, with a feasible option for development.
The Bridgetown Covenant, adopted at the fifteenth session of the United Nations Conference on Trade and Development, mandated UNCTAD to support developing countries in diversifying production and exports in the creative sector, analyse the creative industries and provide insight into the global creative economy as a means to support countries in exploiting the potential the sector presents. Furthermore, in United Nations General Assembly resolution 74/198 on the International Year of Creative Economy for Sustainable Development, UNCTAD was requested to inform the General Assembly at its seventy-seventh session on the implementation of the resolution, through a dedicated section of the Creative Economy Outlook.
This new report offers insights into the survey carried out by UNCTAD with member States on the creative economy highlighting institutional arrangements and national plans and strategies for 33 countries. The findings show how the creative economy has become a sector of growing social, political, and economic importance.
International trade in creative goods and services generates increasing revenues for countries, but creative services exports vastly exceed those of creative goods. The global exports of creative goods represented US$524 million in 2020, while world exports of creative services reached US$1.1 trillion. In addition, UNCTAD estimates that, in 2020, creative goods and services represented 3 and 21 per cent of total merchandise and services exports, respectively. The report also shows that creative services were more resilient during the COVID-19 pandemic than other services sectors.
South-South trade in creative goods has almost doubled in the past two decades. In 2020, South-South trade in creative goods represented 40.5 per cent of creative exports by developing economies. On the other hand, developed economies mainly tend to exchange cultural goods among themselves. South-South trade can be important for developing economies to create new trading opportunities and diversify exports.
The report is published at a time when the global community faces some of the most significant challenges in decades: the COVID-19 (coronavirus disease) pandemic, looming climate change and environmental crisis, geopolitical tensions and a major cost-of-living crisis. Despite these challenges, the creative economy remains a critical sector for sustainable development.
It is my hope that this report will provide crucial data for strengthening the creative sector and its contribution towards inclusive economic development.

Rebeca Grynspan
Secretary-General of UNCTAD